Stories this photo appears in: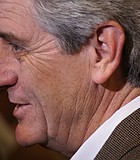 Education
Republican Gov. Phil Bryant on Thursday vetoed a bill that some lawmakers said would move Mississippi away from the Common Core academic standards adopted by this state and many others.
Health Care
The Republican Party, nationally and in Mississippi, has made sport of repudiating the federal health-care law.