This building, located at the corner of Farish and Amite streets, was under renovation by developer David Watkins for a B.B. King's restaurant, but Watkins says foundation problems halted the project.
Stories this photo appears in:
Business
The U.S. Department of Housing and Urban Development has lost faith that any progress will be made with the Farish Street revitalization project that it wants the city of Jackson ...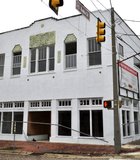 City & County
When the David Watkins camp responded to the Jackson Redevelopment Authority's decision to cancel Watkins lease on the Farish Street Entertainment District project, it sent JRA a 10-page letter that ...