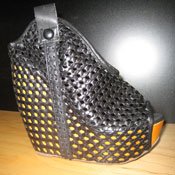 The Shoe Bar at Pieces (425 Mitchell Ave., 601-939-5203) There's not a stiletto we're afraid to try, and The Shoe Bar offers a fabulous selection of funky skyscrapers. Plus, manager Becki Hicks always posts what's just arrived on Twitter, so we can run to get them before anyone else.
Stories this photo appears in:
Fashion
When the Fly Girl and the Girl About Town get together, we shop. Or at least we talk about shopping. So, we decided to start a series of "How to ...