Members of the Highlands Mallet Club don their whites and head to the green for a genteel Sunday afternoon right out of F. Scott Fitzgerald's world.

Stories this photo appears in: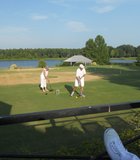 Girl About Town
I've alluded before in this column to my general lack of athleticism. I like working out, but when it comes to team sports, I'm much better at being a cheerleader ...