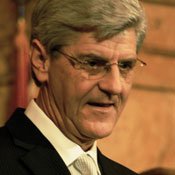 Gov. Phil Bryant
Stories this photo appears in:
Capitol
Gov. Phil Bryant has issued an Executive Order reaffirming Mississippi law that prohibits illegal immigrants from receiving public benefits.
Capitol
After weeks of dancing around the issue, Gov. Phil Bryant announced his intention to resist expanding the state's Medicaid program under the federal Affordable Care Act.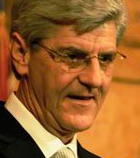 Capitol
On July 4, Gov. Phil Bryant named four of his agency directors to a task force on state recovery projects related to the 2010 Gulf of Mexico oil spill.
Politics
Phil Bryant is grounded, and the Legislature's allowance is being reduced. This week, Bryant made his first executive budget recommendation to lawmakers at the Capitol. As expected, he took a ...