"Well, I'm always an optimist. Some people don't, but I do believe there are good things in store for us. Now we're dealing with this fiscal cliff, and I'm not thrilled with the divisiveness of politics, but I believe God has America in the palm of his hand, and good things are in store for us. Yes, we'll face difficult and tough times, but I yet believe America is going to see better days."
Stories this photo appears in: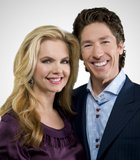 Body+Soul
Joel Osteen's smile is as big as Texas, and so is his following.