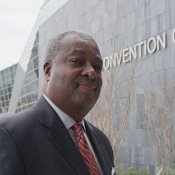 Stories this photo appears in:
During his State of the City address this afternoon, Jackson Mayor Harvey Johnson Jr. touted his administration's progress over the last year and unveiled a "Jobs for Jacksonians" initiative to ...
Development
At tomorrow's meeting, the Jackson City Council will decide whether to ask the state Legislature to remove a controversial state commission that must now approve how the city spends sales-tax ...
The Jackson City Council approved a final revision to the city's budget containing a total of $5.3 million in budget reductions, after the administration overestimated some department expenditures and increased ...
Development
Jackson Mayor Harvey Johnson Jr. touted his plans this morning for expanding Metrocenter Mall to contain office and retail space that would model life-style centers in Ridgeland and Flowood.
Development
Mississippi Department of Transportation's decision to drill a $390,000 well in downtown Jackson to supply water for government buildings is a "duplication of services," city of Jackson spokesman Chris Mims ...
On the corner of Capitol and Adams Streets, city work crews and volunteers are busy transforming an empty lot into a community garden that will provide fresh produce and a ...
Capitol
Mayor Harvey Johnson Jr. reported at a late-afternoon press conference that the city's water supply is now up to a sufficient level to supply every resident with water.
Editorial
Earlier this month, the Jackson Free Press Editorial Board enthusiastically endorsed Harvey Johnson Jr. for the office of mayor, and we hold to that endorsement as we enter the May ...