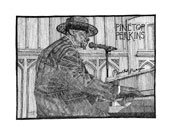 Pinetop Perkins is one of the oldest living bluesmen of a long line of Mississippi-born blues musicians.
Stories this photo appears in:
Music
Born and reared in Wisconsin, I grew up believing Chicago was the birthplace of the blues. Since then, I've lived all over--London, Edinburgh, Phoenix, Dallas, Boston, Roanoke and Lynchburg--and no ...