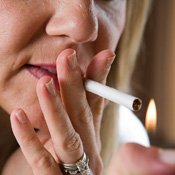 Stories this photo appears in:
Politics
Jackson County Chancery Court Judge Jaye A. Bradley issued a ruling yesterday requiring Brown & Williamson Tobacco Corp. to pay an additional $8 million to the state.
Capitol
Everybody deserves smoke-free air. Pediatricians have first-hand experience about what happens when children and babies breathe second-hand smoke.
Talk
The first week of the legislative session, which started Jan. 4, brought the beginning of bill submissions seeking to beat the Legislature's Jan. 17 deadline for general bills and constitutional ...