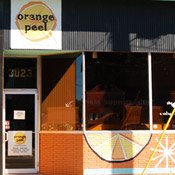 After five years in its current location, The Orange Peel is moving.
Stories this photo appears in:
Business
The Orange Peel is moving. Owner Kristin Tubb says the Fondren consignment shop will open in its new location, at 422 Mitchell Ave., on March 10. As Fondren's retail and ...
Business
Jamie Woods, 36, wants to help small businesses succeed. On May 10, the Jackson Chamber of Commerce will host a ribbon-cutting ceremony for her new venture, J Woods Public Relations. ...