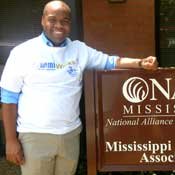 Kevin Jones, development director for NAMI Mississippi, is ready to step off for the 8th annual NAMIWalks in November at Winner's Circle Park.
Stories this photo appears in:
Culture
The National Alliance on Mental Illness of Mississippi hosts the 8th Annual NAMIWalks on Saturday, Nov. 5 at Winner's Circle Park (100 Winners Circle Drive, Flowood). NAMI Mississippi is a ...