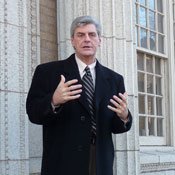 Lt. Gov. Phil Bryant is the Republican candidate for governor.
Stories this photo appears in:
Politics
Phil Bryant won the Republican primary last night and Democratic governor candidates Bill Luckett and Johnny DuPree face a run off.
Politics
The battle over African American-majority legislative districts continues this week in the state capitol after a confusing series of dueling redistricting proposals failed to stick--two from the Mississippi House of ...