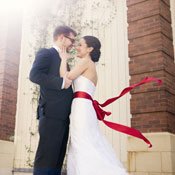 Darren and Melia kept their budget modest, but splurged on three things: food, the honeymoon and photography.
Stories this photo appears in:
Hitched
First there were Bennifer and Tomkat, and then came Brangelina. And now Jackson has the Schwindickermans, also known as Darren Schwindaman, 27, and Melia Dicker, 30. The playfulness of combining ...