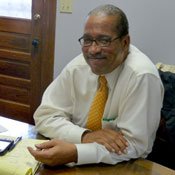 Hinds County Special Circuit Judge Melvin Priester is seeking his first elected judicial position after five years in appointed seats.
Stories this photo appears in:
Politics
Melvin Priester Sr. won a seat as Hinds County Court Judge in yesterday's runoff election.
Priester, who faced Jackson attorney Brent Southern in subdistrict 1, will take the seat of Judge William Barnett, who did not seek re-election, after a swearing-in ceremony Jan. 3. Priester ...
Candidate
Melvin Priester Sr. believes better communication can make the Hinds County judiciary more efficient.