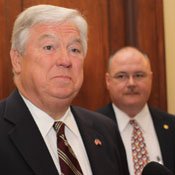 Stories this photo appears in:
Editorial
Gov. Haley Barbour butt-thumped a community organization devoted to poor people this week.
Politics
As the health-insurance reform debate swirls, Gov. Haley Barbour is claiming that most Americans are actually looking for tort reform, not a government-guaranteed insurance option, to lower their health-care costs.