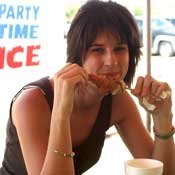 Stephanie Pahaut, visiting from Belgium, eats a chicken-on-a-stick at the Mississippi State Fair.
Stories this photo appears in:
Cooking
You might go for the extra-long corn dog, or choose an old favorite and navigate a Penn's chicken-on-a-stick. My favorite part of that stick of food is the fried pickles, ...