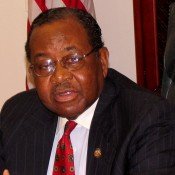 Jackson City Council President Frank Bluntson will lead the regular council meeting tomorrow at 6 p.m.
Stories this photo appears in:
4 p.m., Jackson City Council work session at Jackson City Hall (200 S. President St.). Call 601-960-1033.
6 p.m., Domestic Violence Awareness Forum at the Eudora Welty Library (300 N. State St.). Moderated by Donna Ladd, Jackson Free Press editor-in-chief, the panel will discuss how to make ...
5 p.m., Fondren Association of Businesses Annual Membership Meeting at Schimmel's (2615 N. State St.). Find out about membership opportunities and what's in works for the Fondren Business District. E-mail ...
Politics
The Jackson City Council voted to approve the city's 2010 budget Monday with a five-to-two vote, with only minor changes in the $359.5 million package. The budget, only rejected by ...