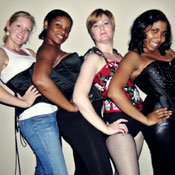 Members of the Magnolia Roller Vixens—(l. to r.) Bonnie Dickerson, Jacqueline Sledge-Prince, Karen Marble and Sumati Thomas—will perform with Pretty Things Peep Show Nov. 15.
Stories this photo appears in:
Culture
Eight Magnolia Roller Vixens, wearing team colors of black and blue, drop their bags on the concrete floor and start lacing up their skates. Sumati "Lizbeth Von Lush" Thomas, Jacqueline ...