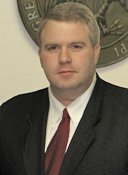 Northern District Public Service Commissioner Brandon Presley supports the merger.
Stories this photo appears in:
The Mississippi Public Service Commission issued a final order today to the utility companies to use the prime rate of interest when calculating carrying charges.
In response to a controversy involving Entergy rate hikes, the Mississippi House of Representatives Public Utilities Committee passed a bill this week moving the Mississippi Public Utilities Staff back under ...