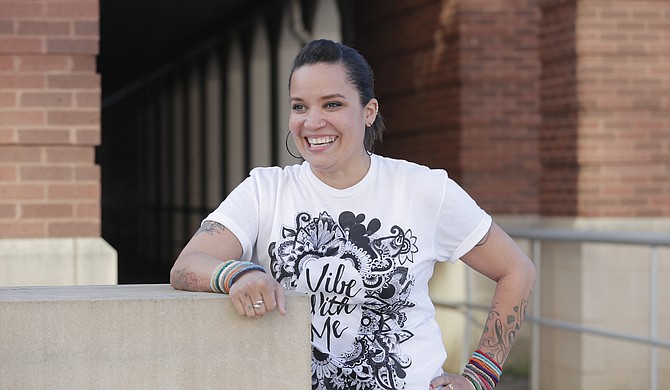 Chrissy Walter, a jewelry designer, Spokane, Wash., native, and George Clinton's stepdaughter just became the Godfather of Funk's publicist.
"I love it," she says. "It's been really interesting actually because when I started, it was right in the middle of his summer tour. … My first day on the actual job officially, I had to schedule five interviews for that day, and I (told) myself, 'There is no way in the world I can do this. This is insanity. This is crazy. Who does this?' And then it calmed down because they were just last minute, urgent and needed to be done. The last person who was doing it had been too overwhelmed. They needed me to do it, so I started it."
Walter says it's the perfect job for her because she loves to talk to people.
Besides being his publicist, she also occasionally sings on stage with Clinton. For Walter, George Clinton & the Parliament-Funkadelic is the family business. Her niece, Shonda Clinton-Drennen, runs the family label, Homegrown Entertainment, while also producing music and booking shows for Walter's nieces, Tonysha Nelson and Patavian Lewis, who are currently touring with Clinton as the group Kandy Apple Redd. Tonysha and Patavian also sing with PFunk, and Clinton-Drennen promotes rapper Young Popp, Walter's nephew Shawn Clinton. Walter says her sister, Barbarella Bishop, who helped start Homegrown, does behind-the-scenes management work for PFunk. Walter's nephew, Trafael Lewis, works as a road manager for PFunk and also sings with the band. Even Walter's mom, Stephanie Clinton, was George Clinton's publicist when they were married. Clinton's current wife, Carlon, helps with legal matters and other parts of the business. Walter's stepsister, Brandi Scott, who performs under the name NAKiD87, also often appears on stage with PFunk.
"Family is family," Walter says. "We're all brothers and sisters. We can throw in all the 'steps' and 'halves' and this kind of stuff, but we just consider each other family. … We have a lot of love, and we just share it with each other. We don't need to define who's what and who's not. As long as we love each other, might as well share it."
In conjunction with the "Planet Deep South Colloquium: Speculative Cultural Production and Africanisms in the American Black South" conference, which took place Feb. 26-28 at Jackson State University, Gallery1 is hosting an exhibition of Clinton's work titled "George Clinton Brings the Art Funk," which runs through March 7. The funk star's artwork has roots in Afrofuturism, which presents concerns of the African diaspora through a science-fiction and fantasy lens. Much like PFunk's music, Clinton's artwork features extraterrestrial and fantasy elements, such as spaceships and aliens, and often mixes several artistic mediums to create a piece. One work in the Gallery1 exhibit features the profile of a human head. The area where the mouth and jaw would be has different colors, textures and patterns outlined in black, leading down to images of a bike, eyes and other items and imagery.
For Walter, Afrofuturism is vital to the advancement of African American culture.
She says that art and music were ways for black Americans to cope through slavery and discrimination in society and establish their own culture.
"It was like you had to be a certain way to be taken seriously in America, so the arts were kind of set aside, and then I think you see that even in the American culture as a whole, you see art set aside as, 'Oh, this is extracurricular,' or if you do love art, you're eccentric, when really … it's been proven that art and music and all of those things we labeled as eccentric, they're essential to helping children learn," Walter says.
She says the exhibit is also a way to show the business side of art. The Clinton family is involved in the Flashlight2013 project, which aims to help musicians reclaim copyrights on their material after 35 years have passed.
Along with the Gallery1 exhibit, a clone of the George Clinton and the Parliament-Funkadelics' Holy Mothership, a 1,200-pound spaceship that the band would use during performances in the '70s and '80s, will be on display at the Smithsonian's National Museum of African American History and Culture when it opens in October.
Walter has been married to her husband, Demian Walter, for 13 years. They have three sons—Isaiah, 17, Xavier, 16, and Elijah, 13. She creates jewelry under the label C-Wa Designs.
More like this story
More stories by this author
Like independent media outlets around the world, the Jackson Free Press works hard to produce important content on a limited budget. We'd love your help! Become a JFP VIP member today and/or donate to our journalism fund. Thanks for considering a JFP VIP membership or one-time support.