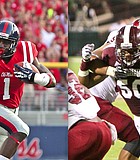 Sports
The last time Mississippi State faced Arkansas, the Bulldogs were a mediocre 4-6 football team trying to figure out a way to become bowl eligible. Things have changed quite a ...
Sports
College football is about to enter its final month in the regular season. Each week comes with de-facto playoff games as one-loss teams face each other.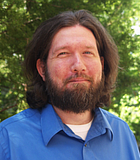 Bryan's Rant
William Shakespeare wrote in "Henry IV": "Uneasy lies the head that wears a crown." This quote seems to apply to Mississippi State University as the team learns to live with ...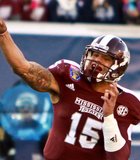 College
Mississippi State, Florida State, Auburn and Mississippi are the top four teams in the first College Football Playoff rankings.
Sports
Third-ranked Mississippi is about to make its second appearance in LSU's Death Valley in the Hugh Freeze era—and how things have changed since the first visit two seasons ago.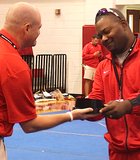 Person of the Day
Thanks to the Lady Arrows' dominance, head coach Johnathan Perkins won the 2014 National Federation of State High School Associations' award for girls' track and field, and it made him ...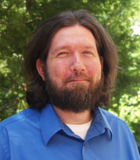 Bryan's Rant
This past weekend showed me that it is becoming nearly impossible to play pass defense. For example, West Virginia upset Baylor thanks to a few bad pass interference calls. The ...
Sports
People used to say that the road to the national championship goes through Florida. This year, the road to the title goes through Mississippi.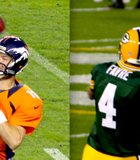 Person of the Day
Peyton Manning broke Brett Favre's NFL record for touchdown passes with his 509th.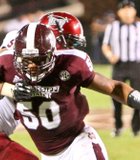 Person of the Day
MSU middle linebacker Benardrick McKinney is essentially the quarterback of the team's defense, and even though he might not get as much of the national spotlight as quarterback Dak Prescott, ...
Sports
The top of the poll has changed, with both Mississippi teams in the SEC grabbing the top two spots. The Bulldogs and the Rebels have jumped Florida State as the ...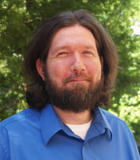 Bryan's Rant
Mississippi State University is the top team in the country, and there really is no argument as to why the Bulldogs should be No. 1. MSU has played one of ...
College
The Mississippi-mania sweeping college football is more than just a temporary condition. It just keeps getting better for the Magnolia state's Southeastern Conference teams.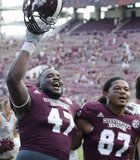 College
Mississippi State is the new No. 1 in The Associated Press college football poll, replacing Florida State and making the fastest rise to the top spot in the history of ...
College
The Heisman Trophy race, much like the playoff chase, took a detour last weekend. The presumptive favorite, Marcus Mariota of Oregon, was unable to prevent his team from being upset. ...
Previous Next