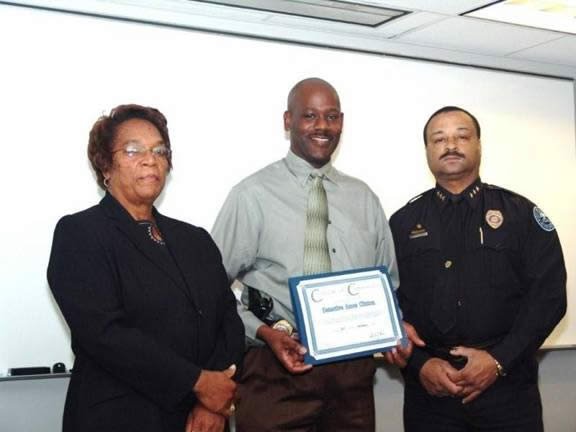 Eric T. Smith was a husband, a father and a man who cared about his neighbors. Like many Mississippians, he was an avid New Orleans Saints fan as evidenced by his Facebook photo collection.
Smith was also a Jackson police officer who put his life on the line for more than 18 years. That line was obliterated at 5:40 p.m. last night when a murder suspect killed Smith and then himself during an interrogation on the third floor of the downtown police station.
Five years before joining the Jackson Police Department in 1995, Smith graduated from Callaway High School. He also attended Hinds Community College.
Smith rose quickly and steadily through the ranks. As a detective with the department's robbery and homicide division, Smith's job frequently put him next to some of the roughest men and women in Jackson, people who had little regard for others' lives, much less their own. He worked to solve the city's highest priority cases, such as the 2011 murder of James Craig Anderson by a bunch of Rankin County teenagers out to terrorize African Americans in Jackson.
Winston J. Thompson III, attorney for the Anderson family, worked with Smith during the investigation.
"I don't think you'll find anyone who'll say anything bad about Eric," he told the Jackson Free Press today. "That's a loss for the department, the city of Jackson and the community."
"It's a sad day knowing that JPD lost one of their own doing his duty," Gov. Phil Bryant, a former Hinds County deputy sheriff, told the JFP at an event celebrating the Mississippi Highway Patrol's 75th anniversary.
A Clinton resident, Smith was married to Eneke Williams Smith, who is a sergeant with JPD. The couple has two teenaged sons, Eric Jr. and Quentin. His neighbors remembered Smith, 40, as sociable and friendly.
Former classmates, co-workers and friends--people who knew Smith best--reached out throughout the night and into this morning through social media. They remember him as guy who stood up to bullies, as a top policeman with a great sense of humor and as a good person.
"[T]hese are the saddest days," wrote Ledireada Kent, a former dispatcher for the department, on Smith's Facebook page.
"I will never forget the laughs we shared," Nikita Roberts wrote. "You were always there when I needed you."
"Eric T. Smith was a great officer and detective and will be truly missed by friends, family, co-workers and all," Keyshia Rhymes wrote. "I encourage everyone to appreciate the lives we have and try to make them better. Help when you can, do not judge."
"When pops passed, you stepped up. Treated me like your own son. You were the life of our family," Jarvis Gatlin wrote. "You made everyone laugh."
Jackson City Councilman and attorney Chokwe Lumumba, who was at JPD headquarters last night in the wake of the reports of Smith's death, told reporters he knew Smith for more than two decades.
"I had great respect for his work and his integrity," Lumumba said. Smith's stepson had played basketball on an Amateur Athletic Union team that Lumumba had also worked with.
"Eric helped take young men all over the country," the councilman said. "He's a real man in every sense of the word."
In a statement released late last night, the city stopped short of naming Smith's killer. The city said that Jeremy Powell, 23, "was in the process of being arrested for the murder of Christopher Alexander, which occurred on April 1, 2013." Powell "also died as a result of gunshot wounds," the statement says.
A family friend of Powell's called the JFP this morning because she wanted to make sure people knew another side of the man the Mississippi Bureau of Investigation has identified as Smith's killer.
"It's shocking to everyone because Jeremy was not that kind of person," Crystal, a family friend who declined to give her last name, told the Jackson Free Press this morning. "He has never been in trouble with the law. ... He didn't care if he had a bad day, he was going to make yours better."
Warren Strain, spokesman for the MBI, which is in charge of the case, told the Associated Press Friday morning that Powell shot Smith before killing himself.
Johnson said counselors and members of the clergy were available to JPD employees Johnson held a press conference this afternoon but did not take questions from members of the press.
"I understand that many of you have questions. We're still trying to find answers," he said.
Trip Burns contributed additional reporting to this story.