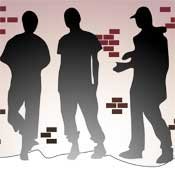 At age 14, Joshua Dedmond had one thing on his mind: starting Jackson's next big megachurch. Dedmond, who earned the nickname "Preach," admits now that following the ministry was something that people wanted for him more than he wanted for himself.
Nevertheless, he believes there were "some extraordinary minds" in Jackson's churches around that time, including a group of young people who were activity in their communities. "We wanted Jackson to reflect our minds and our hearts. Jackson lacks so much that it leads people out of Jackson or gives us that indignation to want to change Jackson," he said.
Whether it was desire or indignation, good things seem to be taking place in Jackson if you use community conversations as the barometer.
Ed Sivak, executive director of the Mississippi Economic Policy Center, points to the existence of several nonprofit advocacy organizations in the past decade. "The advocacy infrastructure, particularly on social policy issues is stronger now than it was ten years ago," Sivak said.
That group of newly minted nonprofits includes the MEPC as well as the Parents Campaign, Mississippi Health Advocacy Program, Mississippi Center for Justice and One Voice.
The organizations are undertaking the yeoman's work of responding to the problems that continue to plague Mississippi and Jackson, including a dropout rate that is higher than the national average, high incarceration rates, and health problems such as rampant obesity and heart disease. Not to mention, some people leaving the city (a trend that may be reversing; see "The Changing Faces of Jackson.")
What precisely is driving people away from the Jackson to the surrounding suburbs has long been a subject for intense debate. Is it the sky-high crime rate? Well, it's not exactly breaking news that a large urban center that is the most populous city of the state where it is situated has crime. And Jackson does appear to be a staple on various lists of most dangerous cities. Those surveys are often flawed, however.
The American Society of Criminology characterized yearly crime rankings by organizations such as Congress Quarterly, invalid, damaging and irresponsible. "City crime rankings make no one safer, but they can harm the cities they tarnish and divert attention from the individual and community characteristics that elevate crime in all cities," the ASC said in a Dec. 2011 statement.
Even the Federal Bureau of Investigation, which publishes the widely cited crime statistics that provide the basis for such analyses warn that "simplistic and/or incomplete analyses often create misleading perceptions adversely affecting cities and counties, along with their residents."
The perception Jackson as crime-plagued hurts. In terms of economic development, it prevents the city from attracting more regional conventions, which can generate almost $1 million economic activity each. The crime perception also hurts the individuals perceived to be committing a disproportionate amount of the crime: young black males.
Mississippi is spending millions to incarcerate children. In 2007, Mississippi incarcerated 219 youth at a cost of $426.51 a day each, or $93,405.69 a day for all of them, according to the Children's Defense Fund's "America's Cradle to Prison Pipeline" report.
Dr. Rodney Washington, a former corrections officer who know chairs the department of elementary and early childhood education at Jackson State University points to the recent failed countywide ban on saggy pants that critics believe would have unfairly targeted young black men.
Washington said that criticism of black males' lifestyle choices like sagging receive harsher judgment and lead to long-lasting consequences, such as the criminal record that would have come with a sagging citation.
Of changing the minds of the perceivers, Washington said: "Before you can have change, you need a sense of urgency."
Given the number of people who love Jackson and are working to maintain its progress, Dedmond believes such a sense does exist. "There's a dynamic that's unique to Jackson, Mississippi—and that's a beautiful thing," he said.
More like this story