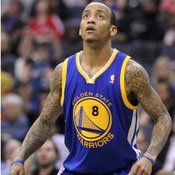 Fans of fall and winter sports might enjoy the current NFL and NBA seasons, but next year that all could come to an end. Both leagues face potential lockouts after the current seasons end.
The NFL collective bargaining agreement has garnered most of the headlines, as football is this country's most popular sport. The NBA has mostly gained headlines with LeBron James taking his talents to South Beach. But like the NFL Players Association, the NBA Players Association seems ready for a prolonged fight with management.
One curious change the NBAPA is pushing is the end of the age limit to enter the NBA draft. Below is the current rule.
Article X. Section 1 (b) (i): The player (A) is or will be at least 19 years of age during the calendar year in which the Draft is held, and ... at least one (1) NBA Season has elapsed since the player's graduation from high school (or, if the player did not graduate from high school, since the graduation of the class with which the player would have graduated had he graduated from high school).
If the NBAPA has its way, a rule change will once again allow high-school players to jump straight into the pros. This could affect current players in Mississippi.
Before the rule was changed in 2005, four players from Mississippi took advantage of no age restriction. Those players were Jonathan Bender, Picayune Memorial High School; Travis Outlaw, Starkville High School; Al Jefferson, Prentiss High School; and most recently Monta Ellis, Lanier High School.
Many argue over why high school players should not be allowed to jump straight into the pros. One argument for the rule change was that high-school players were not ready for the pro game physically and mentally. Of the four players drafted from high school from Mississippi only one, Bender, is currently not on a NBA roster.
Those not familiar with the NBA might ask why Bender is the only player on this list not still in the pros. Injuries to his knees derailed what many thought would be a promising NBA career.
In fact, NBA teams drafted 38 players from high school and 34 of those players are American born. Of those 34 players, as of right now only six are not currently in the NBA.
That answers the question "are the players physically mature enough to play in the pros?" As far as the mental aspect goes, anyone who follows sports closely will notice that with or without college, pro athletes make mind-boggling decisions.
I believe that outside influences suppress the mental maturity of athletes in all sports. Many athletes are not punished for boorish behavior when they are younger, and this entitlement lasts all through their pro career.
Players taken out of high school such as LeBron James, Kobe Bryant and Kevin Garnett have made few public mistakes. Overall, these players have been mature and professional in the truest sense of the word
The only visible "victim" before the age rule was the college game. Since the best players were leaving for the NBA, many felt the college game had lost some of its luster.
Many believed that big-time players deciding on the NBA draft instead of college upset universities that could make financial gains from these players. One example is Mississippi State, which missed out on Bender and Ellis.
Now with the age rule, the term "one and done players" is used to describe a player who is only using college to wait out the age requirement. These players are quick to jump into the draft as soon as their freshman year of college has ended.
The thing the NBAPA and the NFLPA should look at is the startling number of players who are broke after their careers are over. A 2009 Sports Illustrated story pointed out that 60 percent of NBA players go broke five years after retirement, and 78 percent of NFL players are broke two years after retirement.
Mississippi's own Deuce McAllister even suffered this fate. It is estimated that McAllister made $70 million in earnings, yet he filed for bankruptcy protection in March 2009.
Having a degree makes it easier for an athlete to go into the job market after his or her playing days are over, but age limits should not stop them from earning the most from their talents while they are young and at the peak of their earning potential.
More should be done to educate players on how to protect their money so they can afford to retire after their playing careers end. Only mega athletes such as Michael Jordan, Magic Johnson and John Elway have the ability to walk away from the game financially secure.
Other athletes such as Charles Barkley, Dan Marino and Phil Simms turned successful careers into media jobs after their playing days were over. While no rumors were confirmed, ESPN reported that money is why Brett Favre has continued his playing career.
The bottom line: Age restrictions are not the problem. The problem is not preparing these players who become millionaires at such a young age to realize that their life does not end after the cheering stops.
Follow Bryan Flynn on Twitter @jfpsports.
Previous Comments
ID

163147

Comment

Kobe Bryant made a public mistake this week. I discuss it here along with Barry Bonds: http://www.jacksonfreepress.com/index.php/site/comments/barry_bonds_vs._kobe_bryant_one_story_matters_a_lot_more/

Author

Bryan Flynn

Date

2011-04-15T07:36:14-06:00
More like this story
More stories by this author