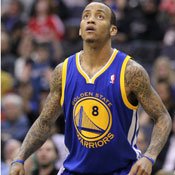 Stories this photo appears in:
Person of the Day
Monta Ellis was named Parade Magazine Player of the Year in 2005, his senior year at Lanier High School. Named to nearly every all-star squad and given nearly every award ...
Sports
Fans of fall and winter sports might enjoy the current NFL and NBA seasons, but next year that all could come to an end. Both leagues face potential lockouts after ...