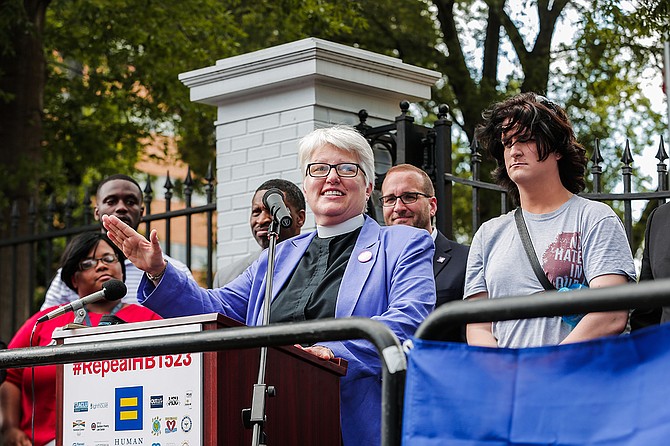 JACKSON — The Campaign for Southern Equality and Rev. Susan Hrostowski are asking the U.S. Supreme Court to review the case against the "Protecting Freedom of Conscience from Government Discrimination Act," also known as House Bill 1523. The legislation became state law in Mississippi after the 5th U.S. Circuit Court of Appeals denied a rehearing in the case earlier this year.
A group of Mississippians that the Mississippi Center for Justice represents already asked the U.S. Supreme Court to look at the case in October, and on Monday, Oct. 30, attorneys representing the Campaign for Southern Equality and Hrostowski filed their challenge with the high court to review the case.
The petition argues that the 5th Circuit erred in its reasoning by not allowing Mississippians to challenge HB 1523. The bill defines three sincerely held religious beliefs: "marriage is or should be recognized as the union of one man and one woman; sexual relations are properly reserved to such a marriage; and male (man) or female (woman) refer to an individual's immutable biological sex as objectively determined by anatomy and genetics at time of birth."
Mississippians who challenged HB 1523 argued that this statute violates the Establishment Clause by endorsing specific religious beliefs and that citizens have the right to challenge it.
"In other words, according to the 5th Circuit, Mississippi can write explicit religious endorsement and discrimination into its legal code—which governs the lives of its citizens—but no citizen can challenge this establishment until that statutory text is printed on a postcard and mailed out to citizens of the state," the petition filed by Roberta Kaplan, one of the attorneys for the plaintiffs, says.
Hrostowski is an Episcopal vicar in Hattiesburg and spoke out against the legislation even before it became state law.
"Jesus said the following things: 'Do unto others as you would have them do unto you,' 'Judge not, lest ye be judged,' and 'Love one another as I have loved you.' HB 1523 does not stand for any of these virtues, and it deeply offends my religious convictions and beliefs," she said in a press release.
The 5th Circuit did not rule on any part of the legislation being constitutional or not—only ruling that the Mississippians challenging the law did not have standing. Attorneys representing Hrostowski and the Campaign for Southern Equality argue that HB 1523 is a model case for the U.S. Supreme Court to address the issue of what causes stigmatic harm from a state law.
"This Court has repeatedly made clear that when the government coerces, stigmatizes or discriminates against non-adherents of particular beliefs, it violates the Establishment Clause," the petition says. "There are many ways a government can create such stigma."
Attorneys representing Hrostowski and the Campaign for Southern Equality argue that the HB 1523 is an ideal case for the U.S. Supreme Court to address the issue of what causes stigmatic harm from a state law.
"The case presents no issues that would prevent the Court from adjudicating the question presented," the petition says. "Ultimately, this case affords the Court a uniquely appropriate vehicle through which to address a question of national importance on which there is a clear circuit split."
Separately, U.S. District Judge Carlton Reeves has allowed discovery in another challenge that Kaplan and the Campaign for Southern Equality brought to address the specific part of HB 1523 that allows circuit clerks to recuse themselves from issuing marriage licenses due to sincerely held religious beliefs or moral convictions.
Read more about House Bill 1523 at jacksonfreepress.com/hb1523 and email state reporter Arielle Dreher at arielle@jacksonfreepress.com.
More like this story
More stories by this author
Like independent media outlets around the world, the Jackson Free Press works hard to produce important content on a limited budget. We'd love your help! Become a JFP VIP member today and/or donate to our journalism fund. Thanks for considering a JFP VIP membership or one-time support.