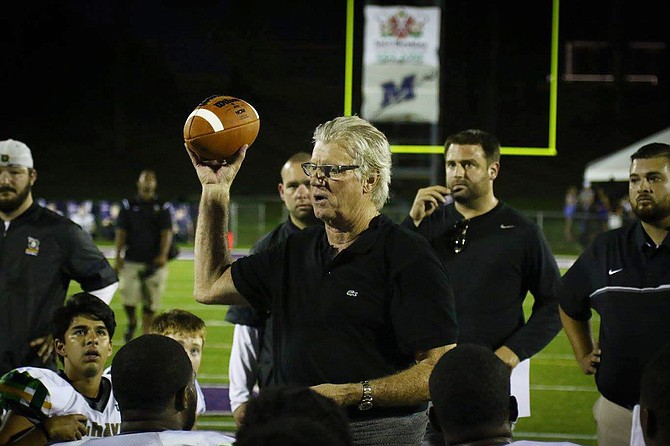 Alcorn State University Braves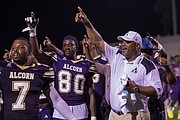 Head coach: Fred McNair (5-6 overall, all at ASU, entering second season)
2016-2017 record: 5-6 overall, 5-4 SWAC
Last Season Recap
The Alcorn State Braves were the Southwestern Athletic Conference East champions for the third year in a row, although injuries like the one to quarterback Lenorris Footman dropped the Braves' win total from the year before. Grambling State University defeated the Braves, keeping them from a third straight SWAC Championship win.
Season Outlook
Footman is back, and so is Noah Johnson, who replaced him last season. Most of Alcorn State's top skill players at the running back and wide receiver are returning, as well. The defense has three returning starters on the defensive line and four in the secondary.
Schedule
Sept. 2 Miles; Sept. 9 @ Florida Int.; Sept. 16 McNeese; Sept. 23 Southern; Sept. 29 @ TSU; Oct. 5 @ Alabama State; Oct. 14 Prairie View; Oct. 21 @ Grambling; Nov. 4 Alabama A&M; Nov. 11 MVSU; Nov. 18 @ JSU
Mississippi Valley State University Delta Devils
Head coach: Rick Comegy (168-115 overall, 4-29 at MVSU, entering fourth season)
2016-2017 record: 1-10 overall, 1-8 SWAC
Last Season Recap
The Delta Devils lost eight games in a row to start last season before notching their lone win against the University of Arkansas at Pine Bluff. MVSU then lost its final two games of the season. Most of the losses weren't even close.
Season Outlook
Head coach Rick Comegy has coached the Delta Devils to just three SWAC wins in his first three years. That needs to change, and with five starters returning on offense and six on defense, this season would be a good start.
The schedule is brutal to begin with, as MVSU will face opponents on the road for three of the first four games.
Schedule
Sept. 2 @ North Dakota State; Sept. 9 @ Southern Illinois; Sept. 23 Grambling; Sept. 30 @ Charleston Southern; Oct. 7 @ Arkansas-Pine Bluff; Oct. 14 @ Alabama A&M; Oct. 21 Virginia-Lynchburg; Oct. 28 JSU; Nov. 4 TSU; Nov. 11 @ Alcorn; 
Nov. 18 Alabama State
Delta State University Statesmen
Head coach: Todd Cooley (26-16, all at DSU, entering fifth season)
2016-2017 record: 4-6 overall, 3-5 GSC
Last Season Recap
The Statesmen won their opener before losing the next two games. Then, they won the next two games before dropping another. DSU won against the University of West Florida before losing three more to end up with a 4-6 record—its first losing season since 2012.
Season Outlook
DSU will have to figure out who will start at quarterback between Collin Willis and Breck Ruddick, both of whom played in the spring game. Star running back Chris Robinson will be a nice weapon to take pressure off the passing game.
The Statesmen also have several returning starters on defense, but the unit will need to learn new defensive coordinator Jerry Patridge's scheme.
Schedule
Sept. 2 Tarleton State; Sept. 9 Chowan; Sept. 16 West Georgia; Sept. 23 @ Shorter; Sept. 30 @ MC; Oct. 7 West Alabama; Oct. 14 @ West Florida; Oct. 21 Valdosta; Oct. 28 @ North Alabama; Nov. 4 @ North Greenville; Nov. 11 Florida Tech
Millsaps College Majors
Head coach: Aaron Pelch (35-34 overall, all at Millsaps, entering eighth season)
2016-2017 record: 3-7 overall, 2-6 SAA
Last Season Recap
Millsaps College went 1-1 in nonconference play last year, with a loss to archrival Belhaven University before and a win against Trinity University.
The Majors also lost their first three conference games before notching a win against Birmingham-Southern College in October. The team lost two games to close out the month. Millsaps scored its last win against Sewanee: The University of the South before a loss to Rhodes College in the closer.
Season Outlook
Three quarterbacks who received playing time last season will return. Having more experienced athletes throwing the ball should help improve an offense that averaged 25 points per game last year. The defense will need to make a few more stops after the team lost four games by only seven or less points.
Schedule
Aug. 31 @ Belhaven; Sept. 9 @ Texas Wesleyan; Sept. 16 Trinity; Sept. 23 Sewanee; Sept. 30 @ Rhodes; Oct. 14 @ Austin; Oct. 21 Berry; Oct. 28 Centre; Nov. 4 @ Birmingham-Southern; Nov. 11 Hendrix
Mississippi College Choctaws
Head coach: John Bland (80-51 overall, 6-24 at MC, entering fourth season)
2016-2017 record: 3-7 overall, 1-7 GSC
Last Season Recap
Nothing has been easy about Mississippi College's adjustment back to Division II football after years at the Division III level. The highlight of last season was a 32-0 win over Shorter University in the penultimate game of the season.
Season Outlook
MC brought in a massive signing class this year, as the team works to become more competitive and earn its first Gulf South Conference win since 1995. The Choctaws have to find a new quarterback, but no matter who runs the offense, the defense needs to get better after allowing 32 points per game last season.
Schedule
Aug. 31 @ Clark Atlanta; Sept. 9 @ Southwest Baptist; Sept. 16 @ West Alabama; Sept. 23 Florida Tech; Sept. 30 Delta State; Oct. 7 @ West Florida; Oct. 14 @ Valdosta State; Oct. 21 West Georgia; Nov. 4 Shorter; Nov. 11 North Alabama
Belhaven University Blazers
Head coach: Hal Mumme (141-144-1 overall, 6-25 at Belhaven, entering fourth season)
2016-2017 record: 2-8 overall, 1-6 ASC
Last Season Recap
Last season, the Blazers won just two games, but one of those game was against rival Millsaps College in the season opener. Belhaven then lost eight games in a row before beating Howard Payne University.
Season Outlook
Starting quarterback Hunter McEachern will be returning, as will defensive lineman Alvin McCaskey and linebacker Keith Marshall, who both need to improve a unit that gave up 53 points per game last year.
Schedule
Aug. 31 Millsaps; Sept. 16 @ Texas Lutheran; Sept. 23 @ East Texas Baptist; Sept. 30 Howard Payne; Oct. 7 @ McMurry; Oct. 14 Southwestern; Oct. 21 @ Mary Hardin-Baylor; Oct. 28 Louisiana College; Nov. 4 @ Hardin-Simmons; Nov. 11 Sul Ross State
Hinds Community College Eagles
Head coach: Larry Williams (0-0 overall, entering first season)
2016-2017 record: 2-7 overall, 2-5 conf.
Last Season Recap
Last year was just one of those where nothing went right, as injuries and bad luck plagued Hinds Community College all season. The Eagles had a 2-7 record, and most of the losses were blowouts.
Season Outlook
After 23 seasons, coach Gene Murphy left his post, and defensive coordinator Larry Williams will take the reins. He will have to work with an Eagles offense that scored just 16 points per game and a defense that allowed 32 points per game. Luckily, both units have plenty of returning skill players.
Schedule
Aug. 31 @ Northwest; Sept. 7 @ Itawamba; Sept. 14 Southwest; Sept. 21 @ Pearl River; Sept. 28 GCCC; Oct. 5 @ Copiah-Lincoln; Oct. 12 East Central; Oct. 21 @ Jones; Oct. 28 East Mississippi
Holmes Community College Bulldogs
Head coach: Jeff Koonz (25-30, all at HCC, entering seventh season)
2016-2017 record: 7-3 overall, 4-2 conf.
Last Season Recap
Holmes got four straight wins before going on a three-game losing streak in the middle of last season. Luckily, the team won the final two games of the regular season. Holmes beat Iowa Western Community College 28-21 in the Graphic Edge Bowl.
Season Outlook
Holmes will have to add onto the success from last season, which can be a difficult task. Head coach Jeff Koonz has done an excellent job at Holmes, but the team can learn from mistakes and avoid losses.
Schedule
Aug. 31 East Central; Sept. 7 @ Southwest Mississippi; Sept. 14 @ Mississippi Delta; Sept. 21 Coahoma; Sept. 28 Northwest Mississippi; Oct. 5 @ East Mississippi; Oct. 12 @ Copiah-Lincoln; Oct. 21 Northeast Mississippi; Oct. 28 @ Itawamba
Find links to the rest of JFP's 2017 College Football Preview here.
More like this story
More stories by this author
Like independent media outlets around the world, the Jackson Free Press works hard to produce important content on a limited budget. We'd love your help! Become a JFP VIP member today and/or donate to our journalism fund. Thanks for considering a JFP VIP membership or one-time support.