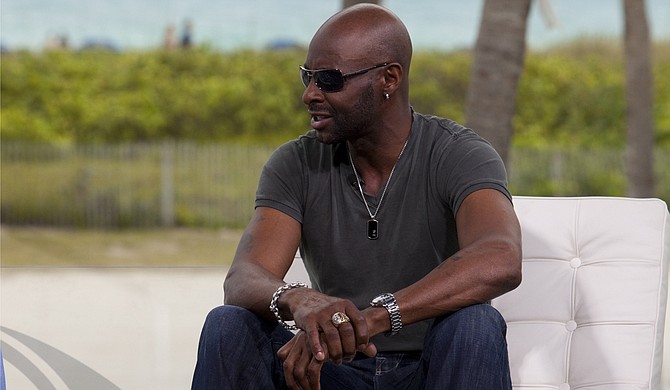 In sports, the word "greatest" gets thrown around a lot. Just do a quick Google search, and you will find articles from the greatest football quarterback to the greatest badminton player.
Most of the time, these arguments turn into personal opinion because, normally, little separates the best players in any given sport. But that is not always the case. For example, if you were to ask who the greatest hockey player is, most people would answer Wayne Gretzky.
In football, nearly every position is hotly debated, but if you ask people who the greatest wide receiver is, one answer that you'll receive often is Jerry Rice.
Rice, like many of the football greats from Mississippi, came from a small town but became the standard for success as wide receiver.
Born in Starkville, Miss., but raised in the small community of Crawford, Miss., Rice didn't even begin playing football until his sophomore year of high school. The son of a bricklayer, Rice became an All-State player, but very few colleges recruited him.
The Mississippi Valley State University Delta Devils were one of the few teams that sent a coach to personally see Rice play in high school.
Rice's career at Mississippi Valley State was a mix of the right player and right coach coming together at the perfect time. MVSU hired Archie "Gunslinger" Cooley as head coach in 1980, shortly before Rice came to Itta Bena, Miss., and installed his "Satellite Express" offense.
Cooley teamed Rice, a freshman in 1981, with quarterback Willie Totten, and the two soon began an assault on the NCAA record books. By 1984, MVSU's offense began to gain national attention. Rice and Totten became must-see football players in the state of Mississippi. At wide receiver, Rice gained the nickname "World" because there wasn't a throw in the world that he couldn't catch.
While at MVSU, Rice set 18 NCAA records, including most receptions, most yards and most touchdowns. The wide receiver soon caught the eye of former San Francisco 49ers head coach Bill Walsh.
Legend has it that Walsh was in a hotel room watching Rice play on a Saturday night before his team took the field the following day. Walsh quickly realized how good Rice was on the field and wanted every bit of tape he could get on the MVSU star.
At the NFL Combine, Rice reportedly ran one of the slower 40-yard dash times for wide receivers, which turned many teams away from him. San Francisco stayed steady on him regardless and selected him with the 16th overall pick of the 1985 NFL Draft.
While football fans remember what Rice became, most don't remember that he struggled as a rookie on a team that had just won the 1984 Super Bowl.
He eventually put it all together on the field and became one of the greatest wide receivers in NFL history. Before his 20-year career ended, Rice set 36 records, a record in itself, and he owned nearly every receiving record in NFL history.
The standout receiver played in and won three Super Bowls (XXIII, XXIV and XXIX) with San Francisco. Rice was named the most valuable player of Super Bowl XXIII. In 2001, he left the 49ers to join the Oakland Raiders, with whom he played in Super Bowl XXXVII.
The Raiders traded him to the Seattle Seahawks six games into the 2004 season, after which he decided to retire. As a token of appreciation, the 49ers "signed" Rice to a one-day contract in 2006, allowing him to retire with the team that gave him his start.
During his long career, Rice played in 13 Pro Bowls and earned First-Team All-Pro status 10 times, NFL Offensive Player of the Year twice and NFC Rookie of the Year, among numerous other awards and distinctions.
Mississippi Valley State renamed its stadium Rice-Totten Stadium after the duo that put the university on the football map forever. Rice entered the College Football Hall of Fame in 2006, a year after he was inducted into the SWAC Hall of Fame.
He was inducted into the Mississippi Sports Hall of Fame in 2007 and the NFL Hall of Fame in 2010, his first year of eligibility. That same year, he was voted No. 1 in the NFL Network's "The Top 100: NFL's Greatest Players."
On Sept. 30, the state of Mississippi will pay tribute to Rice. Celebrations of Greatness will honor the former football star, as will the state, with Friday being named Jerry Rice Day. Rice will also be honored at halftime of the Jackson State University versus Mississippi Valley State game.
The tribute to Rice will be from 5:30 to 11:30 p.m., Friday, Sept. 30, at the Jackson Convention Complex (105 E. Pascagoula St.). Admission is $50 per person or $25 for students, with VIP packages available for $100.
For more information, visit celebrationsofgreatness.com.
More like this story
More stories by this author
Like independent media outlets around the world, the Jackson Free Press works hard to produce important content on a limited budget. We'd love your help! Become a JFP VIP member today and/or donate to our journalism fund. Thanks for considering a JFP VIP membership or one-time support.