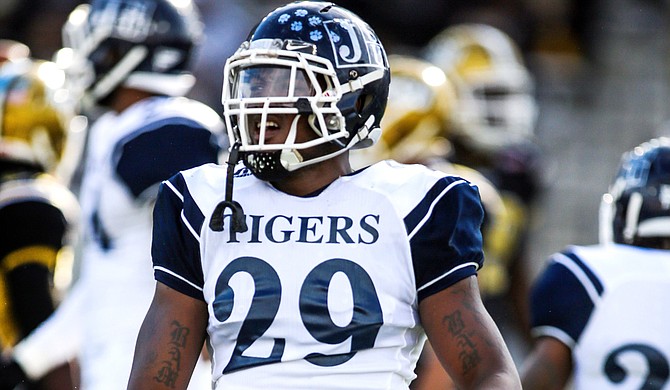 Jackson State University has seen a good deal of change at head coach with four coaches (Rick Comegy, Harold Jackson, Derrick McCall and Tony Hughes) over the last four seasons. One thing that has changed is the play of senior defensive end and linebacker Javancy Jones.
In the three seasons he has been on the field for JSU, Jones has terrorized opposing offenses. After a successful high-school career at Noxubee County High School, Jones chose the Tigers to stay close to his mother.
Jones' mother was diagnosed with neuromyelitis optica, also known as Devic's disease. Her health influenced his decision to attend JSU, and recently, he took a leave of absence to be with her, but he's back and ready to play.
As a freshman in 2013, Jones was named SWAC Freshman of the Year and earned All-SWAC honors. He amassed 54 total tackles, 26 being solo tackles, 14 tackles for a loss and five sacks.
JSU reached the SWAC Championship game his freshman season, and even though they lost, expectations were high for the next season. Jones and the rest of the Tigers were shocked to find out Comegy had been fired.
"We had just lost the championship game, and then coach was a gone. It was a shock," Jones told the Jackson Free Press.
Jackson was hired to replace Comegy, but Jones said "it took awhile to buy in" to their new coach. He still had a standout season, even though he played with two broken hands. He made 108 tackles, 46 of those solo tackles, 18 tackles for a loss and three sacks.
JSU struggled on the field in Jackson's first season, finishing with a 5-7 record. Jackson was fired midway through his second season after a 1-4 start. The Tigers then got with McCall as head coach but finished the season with a 3-6 record.
Jones finished his junior season with 91 tackles, 37 of those solo, with five sacks and led the Football Champion Subdivision with 26 tackles for a loss.
"At JSU, every year our goal is to win championships, not just games," Jones said. "We are used to high expectations, and losing came as a shock to everybody."
Jones enters this season preseason first-team All-SWAC, STATS FCS third-team Preseason All-American and STATS FCS Defensive Player of the Year watch list.
This summer Jones spent time working with local strength and conditioning coach Ehaab Dayoumi as he prepared for his senior season. Jones is up to 245 pounds on his 6-foot, 2-inch frame and wants to play like Super Bowl 50 MVP Von Miller.
Miller and Jones stack up to each other closely, with Miller standing at 6-feet, 3-inches, and 249 pounds. If Jones' other measurables, such as speed, hand size and arm length, match up with Miller, it will be hard for NFL scouts not to make the same comparison.
Jones isn't interested in what NFL scouts have to say right now. He is focused on the Tigers' first game of the season against the University Nevada, Las Vegas.
He and the rest of the Tigers have also bought into new head coach Hughes' way of doing things.
"Everything is (totally) different from Coach Jackson to Coach Hughes, from concepts to mindsets," Jones explains. "Everything is on a D1 level, from the way we dress to recruits to playing the best."
He says Hughes is going after players who can play in the SEC but want to be in the SWAC. Jones believes the Tigers have always had the talent to win, and this year's freshmen are ready to play.
Jones is on the Senior Bowl watch list. He also knows that the UNLV game will be most watched by scouts.
"I know the SWAC is looked down upon, and people, including NFL scouts, don't think we play NFL competition," Jones said. "I have to keep grinding, keep God first, and keep putting up my numbers. I will continue to do what I do. Coming from the SWAC, odds are against me, but I will control what I can control."
NFL scouts will put a lot of stock to how Jones plays against UNLV, but he isn't playing for himself.
"I'm not looking to play for myself or my draft stock," Jones said. "I just want to put JSU back on the map, and if I put up my numbers, everything else will take care of itself."
Jones has major goals for this season. He wants to be a leader on this team and lead the Tigers to a championship. He has been waiting to get back on the field, knowing this is his last year in college.
"JSU is on their way back to the top, and we want to beat everyone we play against," he said. "We are going to UNLV not just to compete, get a check or have people tell us we had a good game. No disrespect to UNLV, but we are coming to win. We believe we can win."
Jones and the Tigers look to shock UNLV and the rest of college football on Thursday, Sept. 1, with a 9 p.m. kickoff against the Rebels.
More like this story
More stories by this author
Like independent media outlets around the world, the Jackson Free Press works hard to produce important content on a limited budget. We'd love your help! Become a JFP VIP member today and/or donate to our journalism fund. Thanks for considering a JFP VIP membership or one-time support.