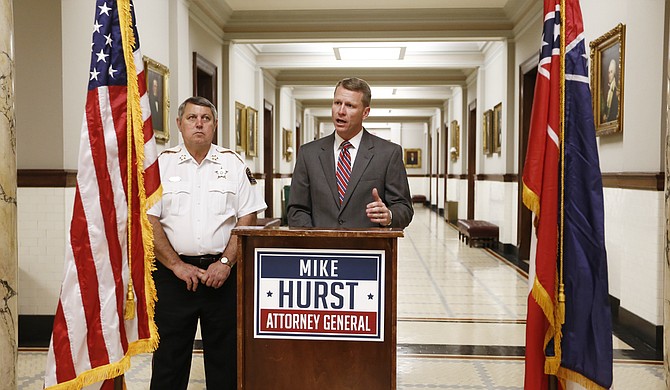 Mike Hurst, the Republican nominee for Mississippi attorney general, along with a local sheriff, says Democratic incumbent state AG Jim Hood "turned a blind eye to the problems with public corruption in Simpson County."
At a Capitol press conference, Hurst and Simpson County Sheriff Ken Lewis, a fellow Republican, said Hood's office interfered in the prosecution of former Mendenhall Police Chief Bruce Barlow.
A federal grand jury indicted Barlow in February 2013 on eight counts related to a scheme to extort money from people traveling through Mendenhall. The indictment states that Barlow and officers under his supervision stopped and arrested people in the 2,500-person town; Barlow would then offer to dismiss or lessen the potential charges if the individuals forfeited property and cash, which he said would go to the department's drug fund.
Lewis, the sheriff, said he contacted Hood's office to investigate but got no response, so he turned to the U.S. Attorney's office, where Hurst was a prosecutor (he resigned to run for political office). When the feds started looking into the case, Lewis said he received word that Barlow had been tipped off, possibly by Hood's office.
"It is simply shocking that the Mississippi attorney general's office would refuse to prosecute a public official who is extorting his fellow citizens, but it is nothing short of stunning that the office of Mississippi's top law enforcement officer would actively help that individual evade prosecution," Hurst told reporters.
Hood's campaign manager, Jonathan Compretta, said Hood has prosecuted more public corruption cases as state AG than Hurst did as a federal prosecutor.
"Out of desperation, Mike Hurst has manufactured a complete lie using a defeated sheriff as a mouthpiece," Compretta said in a statement this afternoon.
Compretta provided a 2010 report that he says demonstrates that Hood's office was investigating the Mendenhall case and worked with the Federal Bureau of Investigation on the case. When the FBI decided to pursue charges, Hood's office transferred its files to the feds and closed the state case.
Ultimately, Barlow pleaded guilty and was sentenced to five years in prison in April 2014. Hurst's campaign also released a video about the case titled "Interference." Hurst said because the alleged interference from Hood's office took place before the U.S. Attorney had jurisdiction over the matter, no federal laws were broken.
However, it's unclear whether such interference would be a violation of state law, of which the AG is the top law-enforcement officer. Said Hurst: "Who investigates the attorney general at the state level?"
More like this story
More stories by this author