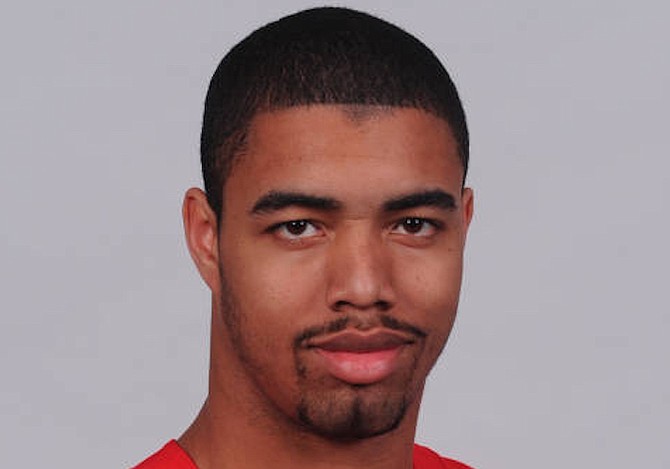 Things were supposed to be easy on the football field for Raymond Cotton. He was a member of the 2008 ESPN Elite 11 quarterbacks, along with Geno Smith, Tajh Boyd, Garrett Gilbert, A.J. McCarron, Aaron Murray, Zach Mettenberger and Tom Savage, all of whom were drafted into the NFL.
One might expect Cotton, 24, to join that group at the next level. However, that hasn't been the case for the once-promising recruit.
When Cotton burst on to the scene in 2008 during his junior season at Faith Academy in Mobile, Ala., scout.com listed him as the No. 22 quarterback in the country. He moved to Maryland in his senior season because the Coast Guard transferred his father there. Cotton finished his high school career at Fort Meade High School.
When he signed with the University of Mississippi after originally committing to Auburn University, the fans, coaches and media assumed that Cotton would be the next great Rebels quarterback after Eli Manning. But things didn't turn out that way.
Cotton redshirted during his 2009 freshman year at Ole Miss, and he saw no game action. Even with a slightly torn labrum in his throwing shoulder, he did spring training in 2010 and shined in the Grove Bowl.
But before he took a single snap for the Rebels in a real game, Cotton decided to leave the program, transferring to the University of South Alabama in Mobile.
"I was still young and didn't know what I wanted," Cotton said. "I felt a lot of anxiety because I wasn't playing, and I felt I should have as a highly regarded recruit."
Cotton also said being homesick played a role in his decision to transfer, though what hindered him the most was the fact that he "didn't develop into a man as quickly as I should have and ... didn't take things seriously."
At South Alabama in 2010, Cotton played sparingly, with just three appearances. Frustrated at his lack of time on the field, he decided to transfer once again, this time to Mississippi Gulf Coast Community College in 2011.
Cotton said he had a decent season at MGCCC, where he was the starting quarterback. Even though he missed three games due to illness, he ended his season-long career at MGCCC with a 46-17 win over Blinn Community College in the Mississippi Bowl.
After leaving MGCCC, Cotton tried to get his career started at Belhaven University in 2012, but once again, he played sparingly. It was at Belhaven where he said he "picked back up the love of football."
He wouldn't get a second year to put his renewed love for football back to use. The college placed Cotton on academic probation. "My head wasn't right, and I had some troubles in my personal life," he said of the events that led to his probation.
Cotton was out of football for two years. Instead of playing the sport he loves, he worked as a stocker at Luvel Dairy in Kosciusko, Miss.
"It woke me up," Cotton said. "I worked for two years just to pay bills, and (I lived) check to check."
While at Belhaven, Cotton played against coach John Bland when Bland was at the University of Cumberlands. When Bland became the head football coach at Mississippi College in 2013, Cotton thought that the coach and Mississippi College might give him another chance at college athletics.
"Coach Bland drew me to Mississippi College," Cotton said. "He is a good, stand-up guy. He gave me chances to help the team and to help him."
Cotton credits Bland with his growth as a player and as a person. He also thanks Mississippi College for his turn around. "The atmosphere here, that got me on track," he said. "There are a lot off good people here. No negativity."
Cotton believes that his winding journey has made him stronger. For a long time, the things said after he transferred from Ole Miss bothered him. He would often wonder, "What if things had gone differently?" Now, Cotton has moved on from his past and is focused on his future and his final year of college football.
Cotton is working hard on the field and in the classroom. "I have one year to build upon, and I want to play to the best of my abilities and not let troubles show," Cotton said.
As Mississippi College moves from Division III to Division II, Cotton sees an opportunity to help in that transition. "I think people really need to come watch MC football this year," Cotton said. "We are building something special this year."
He is on track to earn a bachelor's degree in kinesiology next spring. "I know football, no matter what happens this year, won't last, so a degree is needed," Cotton said.
When Mississippi College opens spring practice on April 1, Cotton knows he will have to fight for a chance to play and start at quarterback. He won't even let himself think about what might await at the next level.
After bouncing around from spot to spot, Cotton's college football career is coming to an end, and he hopes to finally live up to the potential and promise he had as an Elite 11 quarterback six years ago.
More like this story
More stories by this author
Like independent media outlets around the world, the Jackson Free Press works hard to produce important content on a limited budget. We'd love your help! Become a JFP VIP member today and/or donate to our journalism fund. Thanks for considering a JFP VIP membership or one-time support.