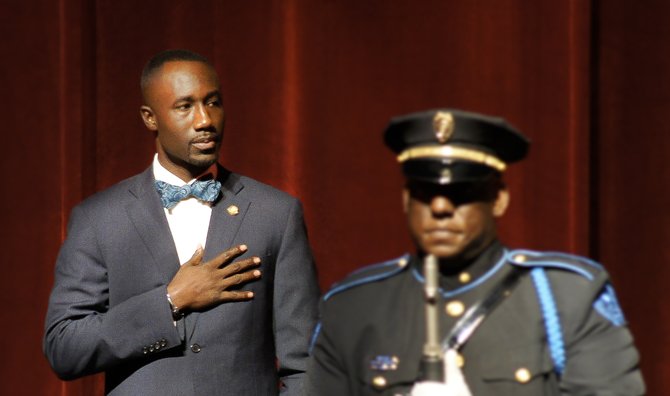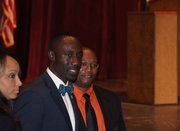 In his first state of the city address since becoming Jackson mayor, Tony Yarber painted a hopeful picture of the capital city's future. Addressing a crowd of hundreds at the newly renovated Thalia Mara Hall, Yarber stuck to his adopted mantra of making Jackson a "bold new city" but cautioned that the journey would be "arduous."
"I cannot promise you that this will be easy. I cannot promise you that every decision I make will be popular. I cannot promise you that we won't have short-comings," Yarber said. "There will be growing pains and there will be bruises, but together we can take the necessary steps to make this city what we desire it to be."
Yarber pointed out that the city is facing a $14 million budget shortfall, which may require cutting popular programs that are not good investments for Jackson's taxpayers.
"Sacrifices will have to be made for the greater good of our communities. No longer can we afford to carry out functions that don't lead to the progressive genesis we seek. For example, what does it profit the city to devote $500,000 in support to a venue and only receive $20,000 in return?" Yarber said without mentioning any specific programs.
Soon, city officials will start crafting a budget for the next fiscal year. Ward 4 Councilman De'Keither Stamps called Yarber's speech "positive" and "encouraging," adding that budget makers will have to prioritize city spending to maximize return-on-investment, but he stopped short of naming any specific programs that need to be cut or reviewed.
"We have a lot of issues around the city of Jackson; we have to invest our dollars (wisely)," Stamps told the Jackson Free Press this morning. "We have a lot of work we have to do, but the bottom line is we have to get better at communicating."
Yarber focused on his administration's restructuring of the city's communications department, which has organized his ongoing listening tours around the city, revamped social media accounts and made greater use of video that tells Jackson's stories.
Some of those are positive stories. Yarber cited recent police statistics that show crime in Jackson trending downward even though challenges remain. Yarber alluded to the shooting deaths of 3-year-old Armon Burton in May and 67-year-old Helen Harrion this month.
"Lack of jail space, low bonds and manpower shortages are issues that have plagued our city and limited our police force for too long. However, these are real issues that we must tackle over the course of my administration. We must not only fight crime, but we must be vigilant in ensuring that punishment for crime sends a clear message to law breakers," Yarber told the audience.
Changes within Yarber's administration in recent weeks have come on the heels of several high-profile crimes. On Monday, Jackson Police Chief Lindsey Horton resigned after admitting JPD officers may have failed to follow investigative procedures when Helen Harrion called 911 to report a prowler before her death. Horton's temporary replacement, longtime Assistant Chief Lee Vance, announced yesterday that he plans to apply for JPD's top job. Also recently, Yarber dismissed municipal judge Hardwick after a public dispute over Hardwick's setting of what the mayor believed was a low bond for a murder suspect.
Yarber, a former Jackson Public Schools principal, announced a new partnership with JPS called the "I Need You to Make It" youth initiative that focuses on the areas of education, health, and character building, as well as a program called Super Neighborhoods, the implementation of a new city smartphone app and texting platform, city-health task force and a series of city festivals.
Read the full speech here.
More like this story
More stories by this author