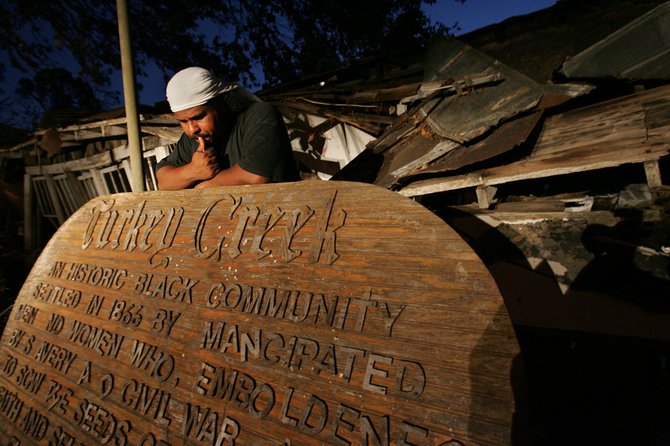 When Derrick Evans talks about the challenges facing his home of Turkey Creek and the people who inhabit the community that former slaves founded on the Mississippi Gulf Coast near Gulfport, one word that comes up over and over: biblical.
Turkey Creek is a small community of about 400 people that sprung up north of Gulfport in the late 19th century. As Gulfport grew—today it is Mississippi's second-largest city—it swallowed Evans' childhood home, which he left to attend Boston College and become a social-studies teacher.
Turkey Creek residents came close to a experiencing an exodus in 2001 when a commercial developer wanted to fill in 500 acres in the watershed for an office park. Turkey Creek already had a flooding problem, and the proposed project would have exacerbated it.
Evans' journey back home to help the mostly elderly neighbors of Turkey Creek organize opposition to the development was documented in the 2013 film "Come Hell or High Water." The film screened during the Freedom Summer 50th anniversary conference held recently at Tougaloo College and is emblematic of the tensions that remain between conservation-mind citizens, and commercial and government interests throughout the state.
Gulfport's pro-development city officials disputed claims of the residents and the U.S. Environmental Protection Agency that a good chunk of Turkey Creek was watershed and would require an EPA permit to develop. Officials, instead, characterized the controversy as a fight over drainage.
"It's not drainage," Evans says in the film. "It's about the irreversible consequences of pro-development tunnel vision in a wetland that is historically valuable and endangered."
Over the next decade, Turkey Creek and the rest of the Gulf Coast also dealt with damaging effects of Hurricane Katrina in 2005 and the BP oil disaster in 2010, disasters that Evans compares to plagues of the Bible.
Evans and other Mississippi Gulf Coasters also recently locked horns with the Mississippi Development Authority and former Gov. Haley Barbour over a plan to explore and drill for natural gas in the Mississippi Sound.
Coast environmentalists opposed drilling in court on the grounds that the offshore derricks (Evans was named after similar derricks that his great-grandfather once built) would impair tourism on the coast, which remains fragile in the aftermath of Katrina and the oil spoil.
Evans, who still lives in Turkey Creek, said in order to build a solid case for environmental protection, residents sometimes have to demonstrate that a environmental feature has economic value. At Turkey Creek, residents were able to get the area protected by showing its value as a recreation destination.
"No one's going to clean up the water or the air just because it's dirty ... but only if people want to use it," Evans said after the panel discussion at Tougaloo on June 26.
That was the argument of coalition members who organized against the state's drilling proposal, which largely relied on a fall 2012 report issued by engineer Jeffrey K. Bounds, who attended the Massachusetts Institute of Technology and has family on the Mississippi Coast. Bounds' findings, which the plaintiffs' attorney Robert Wiygul presented in court, show that even if one in 20 visitors—or 5 percent—stay away from the Gulf Coast because of the of unsightly rigs, it could greatly affect the coast's economy.
On June 19, Harrison County Chancery Court Judge William Singletary ruled in favor of Wiygul's clients. In a seven-page ruling, Singletary wrote that MDA failed to perform the required economic-impact assessment that would consider the impacts to tourism. Singletary notes that MDA's completed EIS statement is a "half-page single-spaced, document" that was "severely lacking" in state requirements for environmental-impact statements. MDA has 30 days to appeal the court's ruling, which would force the agency to prepare a proper EIS if it wants to proceed with the leasing plan.
MDA officials say they're undecided whether to appeal Singletary's decision to a higher court. Wiygul believes that MDA should halt the plan all together.
"The responsible thing for MDA to do is not beat a dead horse," he said.
More like this story
More stories by this author
Like independent media outlets around the world, the Jackson Free Press works hard to produce important content on a limited budget. We'd love your help! Become a JFP VIP member today and/or donate to our journalism fund. Thanks for considering a JFP VIP membership or one-time support.