College's Tech Ramps Up
Tiger Tech @ JSU, an Apple Authorized Campus Store located on the first floor of the Jackson State University Student Center, will host its grand opening Jan. 31 at 10 a.m.
Tiger Tech offers discounts to students, faculty and staff on Apple computers and products, such as iPads, iMacs, iPods and MacBook Pros, as well as many Apple accessories. The store also will offer special promotions, such as in-store events and store giveaways. AACS-certified technicians will be available to provide training on store products. Tiger Tech will accept cash, credit cards and the JSU Supercard.
To take advantage of Apple's education discounts, JSU faculty, staff and students must complete and submit the Purchase Agreement Verification of Eligibility Form. A valid JSU ID is required.
For departmental Apple educational purchases, customers must call or visit the store. An approved Interdepartmental Transfer Form must be received prior to pick-up or delivery of products.
The store is open Monday through Friday from 8 a.m. to 5 p.m. For information call 601-979-7005, email tigertechstore@jsums.edu or visit the Tiger Tech website.
Don't Forget the Caffeine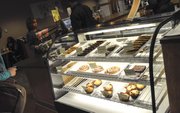 Jackson State University unveiled its new on-campus Starbucks during a grand-opening ceremony at 10 a.m., Friday, Jan. 24, on the ground floor of the H.T. Sampson Library on the university's main campus.
JUS's Starbucks will be open from 8 a.m. to 11 p.m. Mondays through Fridays and from 6 p.m. to 10 p.m. Sundays. It will be closed Saturdays. The menu includes coffees, pastries, danishes, cookies and sandwiches as well as other snacks and drinks. The store will also provide space for meetings and social gatherings on campus.
SodexoMAGIC, the university's food-services provider, brought Starbucks to the university to ensure the availability of high quality coffee and pastries for the Jackson State community.
"Jackson State is a top-of-the-line university, with top-of-the-line students, faculty, staff and administrators," Sanford Winfield, general manager for SoxedoxMagic at JSU, said in a release. "We wanted to make sure that the dining experience that anyone would have at this university is second to none, and that it includes an upscale coffee component."
Neel-Schaffer Opens New Office in Brandon
Neel-Schaffer Inc., a Jackson-based planning and engineering firm, has opened an additional office in Brandon with Brandon native Derick Milner as its manager.
"We are excited to be serving the city of Brandon and assisting with their engineering needs out of our new Brandon office," Keith O'Keefe, manager of the Central Mississippi offices for Neel-Schaffer, said in a release.
Neel-Schaffer has 39 offices in 9 states, including 16 in Mississippi. The company also has a subsidiary surveying firm, Maptech Inc.—located in Pearl—that represents another office in Rankin County. Neel-Schaffer also has an office in Meridian.
"We are going to fill the void between here and Meridian," Milner said in the release. "We are the only firm in Rankin County that offers the full slate of services that Neel-Schaffer offers."
Founded in 1983 as a transportation-planning firm, Neel-Schaffer is now a multi-disciplined firm with more than 400 professional and technical employees. Neel-Schaffer's core disciplines include traffic and transportation; civil and environmental science; water, wastewater and storm water; aviation, and structural and hydraulic engineering. The company also provides geotechnical, electrical, highway and bridge engineering services and employs trained hydrologists, cost estimators, urban planners, landscape architects and public outreach specialists.
Milner, who was born and raised in Brandon, says that 27 Neel-Schaffer employees live in Rankin County.
"We are now serving another community in which we live," Milner said in the statement.
The new Neel-Schaffer Brandon office is located at 20 Eastgate Drive, Suite C. For information contact Rusty Hampton, marketing editor for Neel-Schaffer, at 800-264-6335 or email rusty.hampton@Neel-Schaffer.com.
SBA Offers Working Capital Loans to Reservists
The U.S. Small Business Administration is offering small businesses that have suffered economic losses due to the owner or a key employee being called up to active military duty the chance to apply for a low-interest loan of up to $2 million. Small businesses can apply for the Military Reservist Economic Injury Disaster Loan any time from the date of notice of expected call-up to one year after the date of discharge or release.
The Small Business Administration created the program to enable eligible small businesses to pay operating expenses they could have covered if the owner or key employee hadn't been called to active duty.
"The absence of just one employee whose expertise is critical to the success of the company can pose significant challenges for a small business," SBA Acting Administrator Jeanne Hulit said in a release. "This way our brave men and women in uniform don't have to choose between serving their country and growing their businesses."
The MREIDL is a direct working capital loan, managed by SBA's Office of Disaster Assistance. The interest rate on these working capital loans is 4 percent, with terms up to a maximum of 30 years. In general, no collateral is required to secure an MREIDL of $50,000 or less. The loan cannot be used to replace lost income or profits, refinance long-term debt or to expand the business.
Businesses can apply online here. To get an application by mail, or for other questions about the loan program, contact SBA's Disaster Assistance Customer Service Center at 800-659-2955 or by email at disastercustomerservice@sba.gov.
More like this story