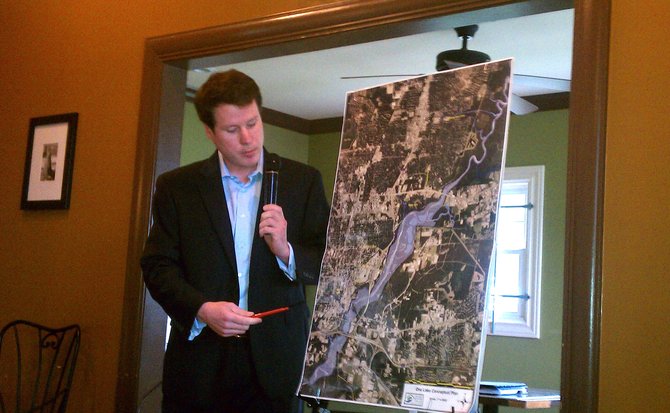 Officials with the two key players developing a combined flood-control and real-estate development project say it was "premature" for a Louisiana parish to vote against the project.
On Sept. 5, the St. Tammany Parish, La., council passed a resolution opposing a plan proffered by groups with ties to petroleum businessman John McGowan. Known locally as "One Lake," the flood-control plan involves damming the Pearl River to keep flooding down in the capital city and promises to create water-front development opportunities.
St. Tammany Parish officials are concerned about the proposed lake's effects on water levels, salinity, wetlands and wildlife.
At Monday's monthly meeting of the Rankin-Hinds Pearl River Flood Control and Drainage District (aka the Levee Board), the board's attorney, Keith Turner, said the parish council "jumped the gun" in passing the resolution because the plan remains in development.
"It's premature to get upset until we have a project in which the problems and the details are actually spelled out. That's what the EIS process is all about," Turner said, referring to the environmental-impact study that is taking place as part of federal guidelines.
Turner has had to quell concerns from officials with agencies in Louisiana and Mississippi, including the state Department of Marine resources. Those officials, he said, are "overreacting ... to some excessive environmental comments that aren't factual."
Among the most strident critics in the environmental community is Andrew Whitehurst, director of water policy with the Gulf Restoration Network.
In a statement on the St. Tammany vote, Whitehurst wrote: "Combined with existing effects to the Pearl from the Ross Barnett Reservoir, a new 1,500-acre lake in the Jackson area is inevitably going to impact the flow and amount of water that reaches downstream communities like Monticello, Columbia and Pearlington in Mississippi, and Pearl River in Louisiana."
Whitehurst added: "Oyster beds and coastal marshes in both states rely on the vital fresh water that the Pearl provides, and this proposed dam is a direct threat to that resource."
Dallas Quinn of the Pearl River Vision Foundation, the nonprofit that McGowan formed to conduct the EIS on the Levee Board's behalf, said the group would hold a meeting on the Lower Pearl in late October to address residents' concerns. He said that St. Tammany Parish leaders did not seek input from project developers before making their vote of no confidence.
PRVF and the Levee Board recently held a scoping meeting in Jackson to address concerns and questions from members of the public. More than 250 people attended, who Quinn said provided much positive feedback on the project.
There was also plenty of negative feedback from conservation-minded attendees who were disappointed with the format, which they believed was designed to suppress public opposition to the plan.
Citizens can make comments through the end of November via mail and at www.pearlrivervisionms.com. The Levee Board's address is: P.O. Box 320069, Flowood, Miss., 39232-0069.
More like this story