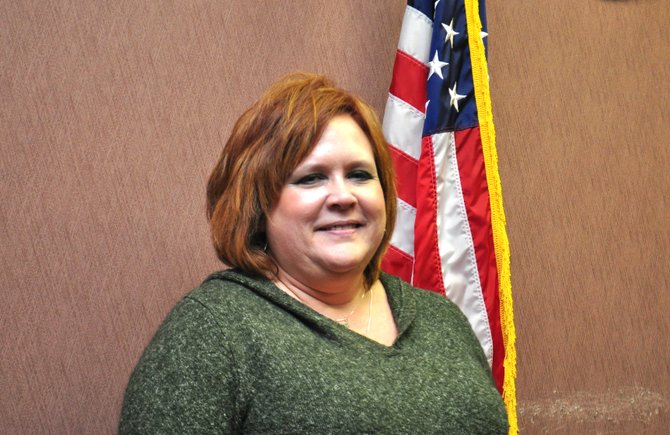 Two years ago, Tamra Morgan began a process that has resulted in the city of Clinton reducing its domestic violence cases by about half in two years.
Morgan has held the job of court administrator for more than two decades, for the past eight years at the Clinton Municipal Court. She's seen a lot of domestic violence cases, many of them involving the same offenders multiple times. The typical pattern was that the perpetrator's ferocity escalated on each case.
"It was so disappointing and aggravating to me to be the part of that system," she said. "It was like a revolving door; nothing was getting accomplished."
Clinton tried a range of solutions--anger management, counseling, jail time--but nothing seemed to have a lasting impact. "It helped, but it didn't solve the problem," Morgan said.
In the fall of 2010, Morgan was completing her bachelor's degree in sociology at Mississippi College, and she enrolled in a victimology course. One night, the speaker for the class was Sandy Middleton, executive director of the Center for Violence Prevention in Pearl, a nonprofit that works with victims of domestic violence and sexual assault as well as running a batterer's intervention program, or BIP, in several counties in mid-Mississippi.
Twenty minutes into an after-class conversation, Middleton and Morgan were planning how to make the BIP an integral part of the Clinton court system.
The intervention program helps offenders change their core beliefs about relationships and their roles in them, empowering them to make fundamental shifts in their behavior. Middleton stressed that domestic violence is not a crime resulting from anger, which is why anger-management programs rarely work. Instead, it is a crime of power, control and manipulation.
"The key is to change their behavior," Middleton said.
Morgan told the judges and prosecutors in Clinton about the center's program, and they gave her the OK to make it happen. As a result, the municipal court now hears DV cases one day a month. The center has a representative in the court ready to take immediate action, whether that's working with victims to provide immediate support and counseling or putting an offender into the next available BIP program slot. Judges sentence the men and women accused of misdemeanor domestic violence to attend the intervention program.
"You ask the question of whether one person can make a difference, (Morgan) went back to her court and said, 'We're going to do this,'" Middleton said. "... She was just determined to make it work."
And the program does work. Batterers who complete the program don't show up again in the court.
"They're seeing no recidivisim, no repeat offenders," Middleton said.
The Clinton intervention class currently has about 15 men, and about four or five women in another class. The programs are co-ed. Before the program, the same men and women would be charged repeatedly.
"Once they get into the program, they start realizing that there's another way to live life besides what they've been doing all this time," Morgan said. She acknowledged that many abusers come from abuse--at some level, they may believe a violent relationship is the only way to have a relationship.
Steven Boone, Clinton's city prosecutor, is a big part of making the system work for the city.
"We're not seeing the same old 'customers' coming through," he said. "It's been a wonderful program."
Abuse victims are sometimes hesitant about allowing their batterer's to attend a program instead of sending them straight to jail. "I'm sure they're thinking, "The system's at work again," he said.
Many of them have seen the legal system fail miserably, often repeatedly. Boone said he saw some victims so many times, he knew them by their first names. After Boone explains the program, though, most will trust that it's the best thing to do.
"Then I never see them again, so it's working," he said.
"When these offenders are sent to the program, the court stands behind it," Middleton said. Offenders know they'll be serving their sentences in jail if they don't complete the 24-week program, which they pay for at the rate of $25 per week, giving them motivation and a personal investment to stick with it. "There are some teeth behind it," she said.
"If you come to the city of Clinton, and you want to beat up on someone, watch out," Boone said. "We'll get you taken care of."
More like this story
More stories by this author