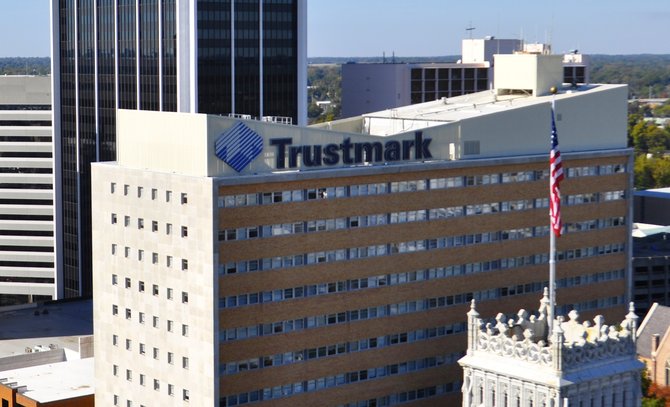 If you've banked with Trustmark National Bank in the past few years, you could soon collect a sort of New Year's bonus.
This fall, Jackson-based Trustmark settled a class-action lawsuit alleging the bank "improperly assessed excessive overdraft and non-sufficient funds fees." In recent weeks, people who had a Trustmark account that came with a debit card started receiving notices stating they could be eligible to receive part of the $4 million settlement fund.
The card, mailed to potential members of the settlement class, states that Trustmark "maintains that there was nothing wrong about the posting process used" and that the courts did not say which side is right.
The case began in June 2012, when attorneys filed the suit on behalf of a West Point, Miss., man named Leroy Jenkins and tens of thousands of other plaintiffs in Mississippi, Tennessee, Florida and Texas.
The suit states that even though banks can decline debit-card transactions when customers don't have enough money in their accounts to cover the purchase, "Trustmark routinely processed debit-card transactions even though there were insufficient funds in the account and then charged its customers overdraft fees," the complaint states.
Other allegations include that Trustmark reordered transactions so that the largest purchases hit customers' accounts first, increasing the chance that subsequent transactions would result in a $32 to $34 overdraft fee per transaction; the bank reported collecting $55 million from "service fees" in 2010.
A call to Trustmark's corporate-communications office was not returned before press time. In the company's response to Jenkins' complaint, however, Trustmark denied many of the accusations. However, attorneys attached a copy of the deposit agreement all Trustmark customers must sign, which states:
"We may process (accept, pay, charge or return unpaid) Items to your account in any order we choose, at our discretion, regardless of the order in which the Items are presented to us for payment. In particular, (Trustmark) may, in its sole discretion, establish priorities for posting transactions and then pay Items in the order of highest dollar amount to lowest dollar amount within the priority grouping.
"The order we choose may result in dishonor of Items, more overdrafts and/or higher fees than other methods. We may establish different priorities or categories for Items and process Items according to the priorities we establish. We may change the order that we use to process Items at any time without notice to you."
Trustmark is not the first financial institution to be embroiled in a legal battle over its assessment of fees. Big banks such as Charlotte, N.C.-based Bank of America and New York City-based Chase Bank and smaller banks like Tupelo-based Bancorp South have faced similar class-action lawsuit, with similar settlement results.
In February 2013, a federal judge in Washington, D.C., dismissed an antitrust lawsuit against Visa Inc., MasterCard Inc, JPMorgan Chase & Co, Bank of America Corp and Wells Fargo & Co., alleging that banks had colluded to fix ATM fees.
Dal Didia, interim chair of Jackson State University's Department of Economics, Finance and General Business, said banks face stiff competition from other banks offering free services as well as businesses offering services historically provided by financial institutions. Supermarkets can now cash payroll checks, payday lenders offer small loans, and customers can get cash advances from their credit cards, Didia explained.
"It's the competition among banks that's eating into their profit margins. You see so many banks competing, offering free services. They have to make it up some way," Didia said.
That increased competition has been good for the banks and customers, Didia said. He added that banks used to be a lot more selective in whom they allowed to open accounts; now, not only do more people have access to banks, but banks are falling over each other offering "free stuff," to get customers' business, he said.
Even if the overdraft fees are hefty, Didia said allowing the transactions to go through despite a customer's lack of cash, is a valuable service akin to a loan.
"That's a good thing," he said. "It's not a bad thing if you know what you're doing and know how to use it."
For more information, visit trustmarkbankoverdraftsettlement.com or call 1-877-624-9442.
More like this story
More stories by this author
Like independent media outlets around the world, the Jackson Free Press works hard to produce important content on a limited budget. We'd love your help! Become a JFP VIP member today and/or donate to our journalism fund. Thanks for considering a JFP VIP membership or one-time support.