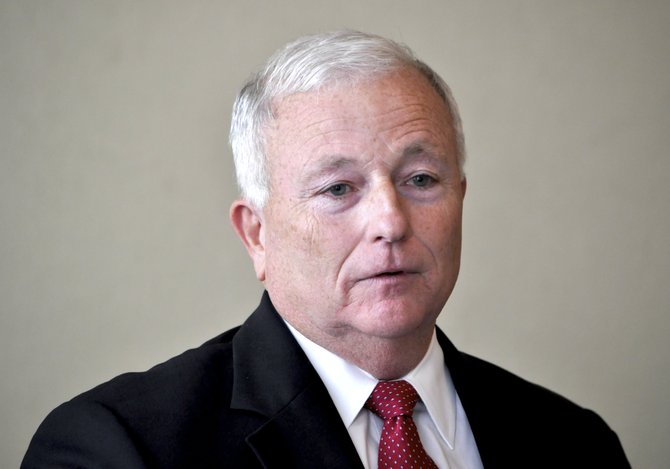 Steve Renfroe, the newest member of the Mississippi Public Service Commission, is the man in the middle on the question of the controversial Kemper County power plant, now under construction.
The three-member commission has been split since Mississippi Power Company announced plans for the lignite-coal-fueled electric generating station. Democratic Commissioner Brandon Presley generally opposes the plant over concerns about cost and the use of technology that has been unused on a commercial scale, while Republican Commissioners Lynn Posey and Leonard Bentz decline to throw up many roadblocks to the project.
Bentz's departure this summer and Republican Gov. Phil Bryant's appointment of Renfroe to the Southern District post left many people wondering where Renfroe's head was on the Kemper question.
One big question was how Renfroe's previous experience as a longtime lobbyist for Chevron—one of the largest producers of natural gas in the country as well as one of the state's largest user of electric power—would color his thinking about Kemper, which has drawn criticism for not using cleaner, abundant natural-gas resources.
Renfroe weighed in at a John C. Stennis Capitol Press forum Dec. 2, saying the prudency hearing, when Mississippi Power will have to justify its expenditures that the company will attempt to collect from its customers, will help determine what Kemper's fuel mix will be.
"Predicting the future is tough. You have to give it your best shot, but it's hard to do," Renfroe said.
Renfroe used the example of a $1.3 billion heavy-crude-oil processing plant Chevron built in the early 1980s. At the time, the difference in cost between refining heavy crude and light crude justified the price tag, but the cost differential disappeared by the time the facility opened.
The plant suffered for a time, but soon the differential grew to unprecedented levels, making the refinery profitable. Likewise, 10 to 15 years ago, forecasters predicted that the supply of natural gas in the U.S. would soon dry up. But with the advent of hydraulic fracturing technology, a controversial method that uses a high-pressure mix of water and chemicals to split rock formations, the nation now has a surplus of natural gas.
With such market volatility, Renfroe said utility companies should be held accountable for doing what's best for its customers and that having "skin in the game"—meaning something the company could lose—could be a motivator.
That could mean including more natural gas to keep customers' costs down.
"Is it a good idea if you're building a stock portfolio or any other kind of portfolio to have your eggs in more than one basket? I think there's some legitimacy to that," Renfroe said.
More like this story
More stories by this author
Like independent media outlets around the world, the Jackson Free Press works hard to produce important content on a limited budget. We'd love your help! Become a JFP VIP member today and/or donate to our journalism fund. Thanks for considering a JFP VIP membership or one-time support.