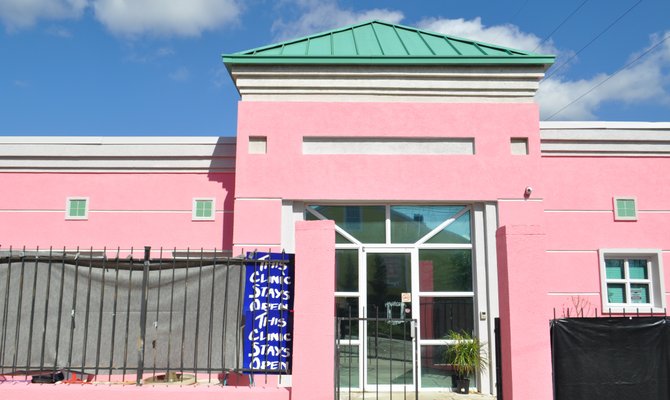 A little after noon Wednesday, an ambulance arrived at the Jackson Women's Health Organization--Mississippi's last remaining abortion clinic.
But the commotion was only just beginning.
Diane Derzis, who owns the clinic that became involved in a legal battle over a state law implemented in 2012, said the clinic was being proactive by transporting the patient to a hospital for observation.
"This is a medical procedure. There are risks, and we're going to do what's necessary," Derzis told the Jackson Free Press this morning. Derzis added that the woman was "fine when she left the clinic."
The incident reinvigorated debate over whether abortions are safe. Last year, the state Legislature passed a law that requires all abortion providers in Mississippi to obtain admitting privileges at a local hospital. A federal court allowed JWHO to stay open while it tried to comply with the law, but the clinic has been unsuccessful. A status hearing about the case will take place next week.
Yesterday's events also touched off a social-media sparring between clinic supporters and abortion opponents, sparked in part by a story that appeared on The Clarion-Ledger's website.
The story, which did not carry a byline, used photographs that abortion opposition group Pro-Life Mississippi provided of emergency medical technicians putting the patient into an ambulance.
Derzis called the story an example of "unprofessional journalistic ethics."
"I just find that callous," she said. "That's beyond the pale. It's unbelievable."
An email to Clarion-Ledger City Editor Sam R. Hall seeking comment was not returned before press time.
In the past 24 hours, clinic supporters have unleashed a barrage of comments on the Clarion-Ledger's website criticizing both the daily newspaper's coverage as well as the abortion-clinic protesters who took the pictures. Volunteers say Dana Chisolm, president of the nonprofit group Pro-Life Mississippi, exclaimed "Hallelujah!" when the ambulance arrived.
"In my opinion that's not very 'pro life,'" commented Laurie Roberts, the clinic's lead escort who also writes a column in the Jackson Free Press, on the Ledger website. "Why would you rejoice because someone else is ill? ... It takes a sad person to rejoice in someone else's illness."
Chisolm came to her own defense, commenting via Facebook (emphasis hers): "I do NOT rejoice that ANYONE suffers. I would like for the suffering of the women and the death of the babies to stop. I will rejoice when this ceases to occur weekly at 2903 N. State Street, Jackson, MS."
Derzis also noted that the fact that the patient was admitted to the hospital proves that the admitting-privileges law is unnecessary.
"This (says) nothing about patient or women's safety. It's about putting us out of business," Derzis said.
More like this story
More stories by this author
Like independent media outlets around the world, the Jackson Free Press works hard to produce important content on a limited budget. We'd love your help! Become a JFP VIP member today and/or donate to our journalism fund. Thanks for considering a JFP VIP membership or one-time support.