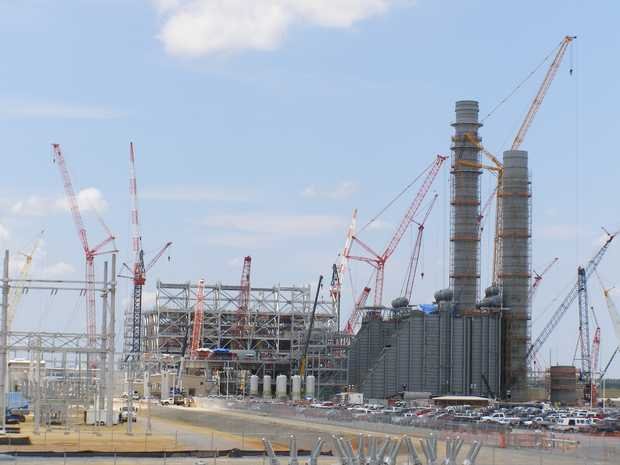 After several credit downgrades and gloomy financial forecasts, the balance sheets of utility companies constructing a 580-megawatt coal power plant in eastern Mississippi are improving as their ratepayers are saddled with steep price increases.
In March, the Mississippi Public Service Commission, which oversees utility companies in the state, agreed to Mississippi Power Company's request for a $172 million rate hike. On March 5, the three-member PSC voted to allow Mississippi Power raise rates 15 percent in 2013 and another 3 percent in 2014.
"When it comes to rates, we're allowed to recover prudent expenses used to produce electricity for our customers," said Mississippi Power spokesman Jeff Shepard.
Shepard said the company has a settlement agreement with the PSC locks in utility rates for seven years, through 2020. He said the company may seek one additional rate increase to service bond debt.
The rate-hike approval followed the Mississippi Legislature's approval of a plan authorizing Mississippi Power to issue as much as $1 billion in bonds to cover Kemper IGCC's construction costs that exceed $2.8 billion, bringing the potential overall cost to near $4 billion.
These moves by Mississippi politicians are part of wave of recent good news for the stockholders of both Mississippi Power and its Atlanta-based parent company, Southern Co. On April 15, Southern announced it would pay out a dividend for the 12th consecutive year. Southern will release full first-quarter financial results April 24.
Thomas Fanning, Southern's chief executive officer, credited the dividend with the company's "history of providing clean, safe, reliable and affordable electricity." But questions about Kemper's cleanness, reliability and affordability prompted a series of legal challenges, which translated into a financial liability.
The Sierra Club has fought the plant since the beginning, citing the fact that it will require mining and burning of lignite coal, a soft coal that is abundant in Mississippi but burns dirtier and is less energy dense than other coals. In December, the environmental group lost a challenge in Harrison County Chancery Court, but has appealed to the Mississippi State Supreme Court. Robert Wiygul, the Sierra Club's attorney, said the matter would not appear before the high-court justices before the fall, when construction on the plant will be near complete.
In the middle of all the legal wrangling, Southern Co. failed to meet earnings expectations one year ago. For the second quarter of 2012, the company made $.65 per share earnings but had expected earnings per share of $.70 cents.
Then, over the summer, a denial of Mississippi Power's request for a rate increase from the Mississippi Public Service Commission led to a decision to lower MPC's credit rating. In July, Fitch Ratings downgraded Mississippi Power's credit rating to "A-" from "A" and changed the company's rating outlook from stable to negative. Fitch cited the plant's riskiness and escalation in capital costs in its assessment at the time.
While the fortunes of Mississippi Power shareholders have improved, its customers continue to feel the pinch. In addition to the direct rate hikes that Mississippi Power's customers will see, rural electric cooperatives that buy power wholesale also say they will have to charge their customers more.
Meridian-based East Mississippi Electric Power Association said it, too, will have to raise rates on its customers thanks to Kemper's costs. Starting in May, the cooperative will the raise utility bills of their 37,000 customers by 9.3 percent.
EMEPA unsuccessfully appealed the rate increase with the Federal Energy Regulatory Commission. To help defray some of the costs of the price increases, EMEPA offers free home energy audits and rebates for energy saving appliances, said spokeswoman Julie Boles. Poor customers can also get help with their Mississippi Power bills through the federal low-income home energy assistance program.
More like this story
More stories by this author