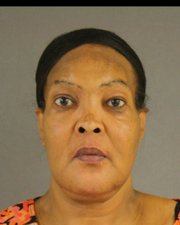 JACKSON — Morris Garner, a Jackson man who lives as a woman under the name Tracey Lynne Garner, will face murder charges in the death of an Atlanta woman.
The specific charge of depraved heart murder stems from Garner's role in allegedly injecting 37-year-old Karima Gordon with "a foreign and possible counterfeit substance during an illegal medical procedure," according to Mississippi Attorney General Jim Hood.
If convicted of depraved heart murder, defined as demonstrating "callous disregard for human life" and resulting in death, Garner could get life in prison.
Hood's office said Garner performed the procedure at his home in Jackson. Garner's arrest resulted from a six-month-long investigation by the Mississippi AG's office, Mississippi Board of Medical Licensure and the U.S. Food and Drug Administration.
"While this remains a murder case, our intellectual property task force is involved to also investigate the possibility that the substance injected into the victim was a counterfeit version of silicone," Hood said in a statement.
The Associated Press reported that Hinds County Judge Melvin Priester denied bond after a hearing Tuesday afternoon. Garner was arrested Sept. 6, according to jail records.
After the hearing, Garner's lawyer, John Colette, said he was "shocked" by the seriousness of the charge and the fact that his client was held without bond. He denied his client is guilty of depraved-heart murder.
Garner said during court that he is 53-years-old and worked as a floral and interior designer. He wore a yellow prison jumpsuit and shackles, and his hair was in a short ponytail.
Colette said Garner had undergone operations to change gender. Hood referred to Garner as a man, and Garner was booked into the Hinds County jail as a man.
Hood said that Gordon, who had served in the military and wanted to become a model, found Garner after meeting someone on the Internet known to authorities only as "Pebbles." Gordon met Pebbles in person in New York City and paid her $200 for the referral to Garner, according to Hood.
Hood said his investigators were looking for Pebbles.
The Associated Press found a Twitter account in Gordon's name from which only one message had been sent, and it was to a Pebbelz Da Model in December. The Twitter account of Pebbelz Da Model had a link to an website by the same name.
Pebblelz's YouTube page also has more than 1.7 million page views. However, Hood's office had no comment on whether Pebbelz Da Model is the same person his investigators were looking for.
"We've had people practicing medicine without a license, but nothing like this," Hood said.
The Associated Press contributed to this story.
More like this story