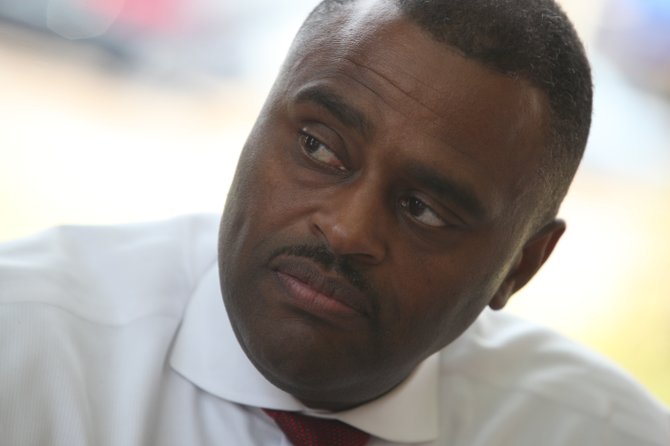 If you work for the Hinds County Sheriff Office, you got some good news and some bad news this morning.
In a move that seemed to catch fellow supervisors and Sheriff Tyrone Lewis off guard, District 5 Supervisor Kenneth Stokes successfully proposed removing $2.5 million from the sheriff's budget to pay for raises and add to the county's cash reserves.
Of that amount, Stokes asked that $1 million go toward giving all county employees, including those in the sheriff's office, $100 per month raises and that another $1 million be applied to the reserve fund for a total reserve of $1.75 million.
Stokes, the board's vice president, ran the meeting in the absence of board president and District 1 Supervisor Robert Graham, who participated via speakerphone.
Graham called the proposed budget reduction tantamount to a layoff that could result in a crime spike.
But Stokes and District 4 Supervisor Phil Fisher, who seconded Stokes' motion, said because the sheriff's office is only charged with policing the county's unincorporated areas, that the municipalities should step in and do their parts to keep crime in check.
Stokes, a former Jackson city councilman, said that the city of Jackson's police budget of $42 million roughly equals the county's entire operating budget of $52 million.
"If anything, the city should be out in the county helping us, not us helping the city," Stokes said.
Midway through the otherwise mundane proceedings that included a reappointment to the Jackson-Hinds Library Systems Administrative Board and discussion on the county's lack of participation in the Miss Mississippi pageant, Lewis and a cadre of aides showed up in the county board chambers in the Chancery Court building.
District 3 Supervisor Peggy Hobson Calhoun reminded her colleagues that the county continues struggling to comply with a court order to maintain certain staff-to-inmate ratios at the county jail.
Calhoun pointed to the riot at the Raymond Detention Center in July as evidence of an understaffed jail. During the disturbance, about 183 inmates that populated the jail's Pod C flooded and took over at least one housing unit.
The county has since talked about replacing or fixing the jail, which sustained extensive damage during the riot.
Stokes countered Calhoun, saying the cuts he proposed would not affect the number of deputies working at the county jail. Calhoun said if the cuts led to more problems at the jail, the county could "end up paying through the nose" in legal costs.
"No matter how powerful you think you are, or what you think you are, you cannot ignore a court (order)," she told Stokes.
District 2 Supervisor Doug Anderson joined Stokes and Fisher in passing the cut; Graham and Calhoun voted no.
After the vote, Lewis told reporters that his office would have to examine the effects of the unexpected cuts.
"It's going to hurt big," Lewis said.
More like this story