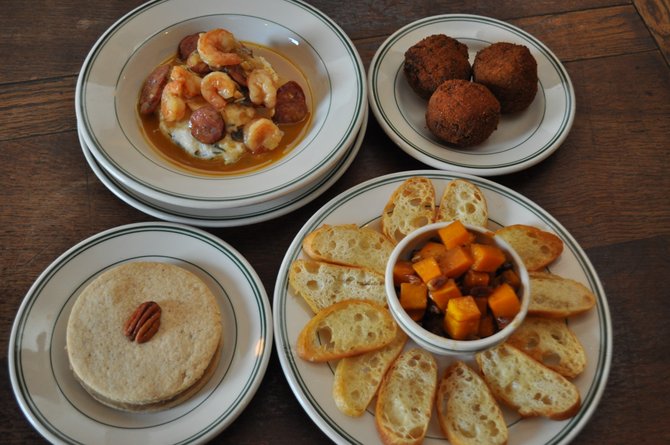 Fenian's Pub is getting serious in the kitchen, and they want you to know about it. The pub is throwing its first beer pairings dinner, a four-course meal dreamt up by Josh Speights.
"We have really good food here at the pub," T. Francis, the pub's manager, says. "It's one of the things that we get perceived as just a bar, so a lot of people don't think about eating here, but we're starting to get people more knowledgeable about it. Everybody loves to come here and have a beer, so why not give them an atmosphere to have some great food, introduce them to what we can do in the kitchen?"
The restaurant hopes the dinner will help them join the ranks of local watering holes becoming known not just for libations and good grub, but also for much-anticipated events.
"These dinners are one of the popular restaurant trends going on right now in a lot of places such as Sal & Mookies, Underground 119, Parlor Market," Speights says. "At
BRAVO! for instance, they do wine pairings, Sal & Mookies does beer dinners with Diamond Bear, Lazy Mag, Abita, Rogue, Leinenkugel. … And talking with people around town, they said they'd like other places to do a beer dinner."
Working with Abita was natural for Speights, a Louisiana native. "Abita kind of hits home for me, because I (lived) only 15 minutes from the Abita brewery," Speights says. "As a kid we'd go have meals over there at the brewhouse restaurant."
The food is also Louisiana-inspired, featuring a butternut squash bruschetta, fried boudin balls and a gourmet version of shrimp and grits.
When it came to dessert, however, Speights was a bit stuck. "I've been working in restaurants for 10 years and never been a dessert guy," he says. "You can give me a sauté pan, pizza dough, and I can create something out of that. But you put something in front of me that involves sugar or sweet and I'm stuck. It's not my forte. So T actually came up with the idea." Multiple iterations of a twisted pecan pie eventually morphed into two pecan sandy cookies sandwiching a mix of pecan pie filling and cream cheese.
The dishes reflect both Speights' tastes growing up—several items are updated versions of family recipes or things he would cook for friends—and ingredient seasonality.
Five beers will be featured in the dinner—a welcome beer and one with each of the four courses. Speights planned the pairings based on balancing flavors. "For the first course we're going to use the Restoration Ale, the flavor profile and maltiness really work well with and the sweetness of the butternut," he says. "With the boudin balls I'm going with a Jockamo IPA, because it pairs really well with spicy foods and fried foods." Speights is also using beer in the food itself—the shrimp and grits will be cooked with an Abita amber
beer reduction.
Although never formally trained, Speights says he grew up with a love of food. "I've been cooking basically all my life," he says. "I had one grandmother who was from Louisiana, and another one who was from New Orleans by way of Jackson, Mississippi, so growing up as a kid, it opened up a whole world of different flavors and concepts of what to eat. Growing up in New Orleans, food is everywhere. You can't turn around without running into a po boy shop or an Italian restaurant or a seafood restaurant, or things along those lines. So I was always trying new things."
Fenian's Pub's first beer dinner is Oct. 28 at 6 p.m. The $50 ticket includes all food, drink and taxes. Abita representatives will be on hand to discuss the beer as well. Visit fenianspub.com for more information and stop by the bar (901 E. Fortification St., 601-948-0055) to purchase tickets.
More like this story
More stories by this author