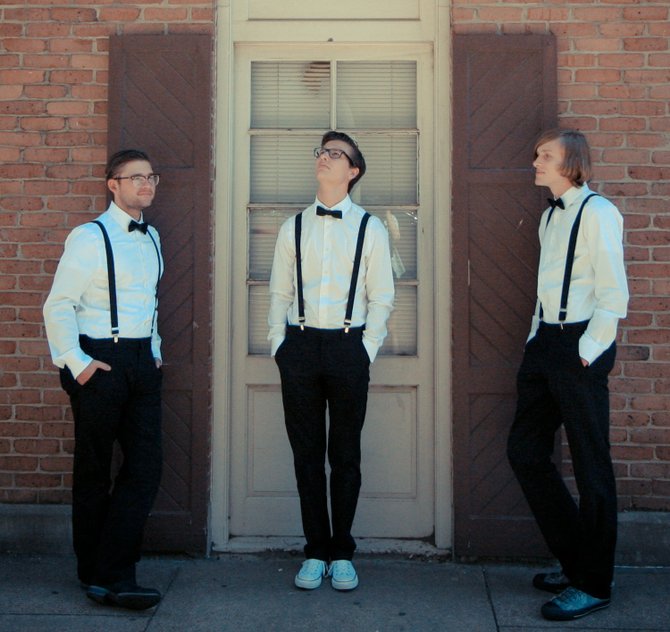 TopherMan is a band that doesn't quite fit in. Instead of writing about break-ups or boozing, the Jackson-area indie-rock band puts its experience with God at the central focus of its music. However, these guys aren't your typical Christian FM radio band, as they will tell you.
"We wanted to incorporate what we thought was good music, and lyrically write the experiences we had," guitarist Chandler Wood says. "I can't stand to listen to the radio. It makes me sick. You can tell when something is fake. It's just boring, and it's not true."
TopherMan is made up of keyboardist, bassist and vocalist Cameron Wood, 21, guitarist and back-up vocalist Chandler Wood, 19, and drummer Josh Westbrook, 21.
The group released its first self-titled album in June 2011 after brothers Cameron and Chandler returned from living in South Carolina. They recorded that album in Nashville with engineer Brandon Shattuck.
The group got its start when Cameron and Chandler started performing worship music in the church they attended in Florence, Miss. The brothers then started writing their own songs and performed together first under the name The Wood Brothers in 2003.
The brothers eventually wanted a change of direction from the singer-songwriter sound of The Wood Brothers. They then dropped the name, added a few members and formed TopherMan. After some line-up changes, the brothers brought in their old friend Westbrook to the group as drummer in 2006. The band has been a three piece ever since.
The "SEEK" EP, self-released on Aug. 14, straddles the line between indie-rock and worship music. Chandler says this was no accident: "We wanted to challenge people in the church to think outside the norm, as far as the worship platform."
The group gleans influences from bands outside the typical Christian music circles. Chandler cited acts such as Mute Math, Cool Hand Luke and post-rock groups such as Explosions in the Sky.
The four-song EP is an eclectic mix, from the Arcade Fire-style epic "Going It Alone" to the more stripped-down "Glory unto Him." At around six minutes long, the instrumental "Creation" is where the bands post-rock influences come into play.
Chandler says feedback from "SEEK" has been great so far, but as of now, they have no plans on releasing a follow-up. The brothers will be leading worship at Restoration Church in Flowood, which opens Jan. 20. Westbrook and Chandler will continue making music under the post-rock project, Host of Captives.
"The thing is TopherMan is basically ending as far as the name goes, but we aren't trying to make a big deal out of it. We will keep the Facebook up and still post what we are currently doing," he says.  "It's never been about the name, anyway. It's just a collaboration of us, doing what we want to do."
Download "SEEK" on iTunes and other major mp3 sites, or purchase a physical copy from tophermanband.com.
Visit noisetrade.com/tophermanband to download "RESEEK" for free. Also find the band on Facebook.
More like this story
More stories by this author