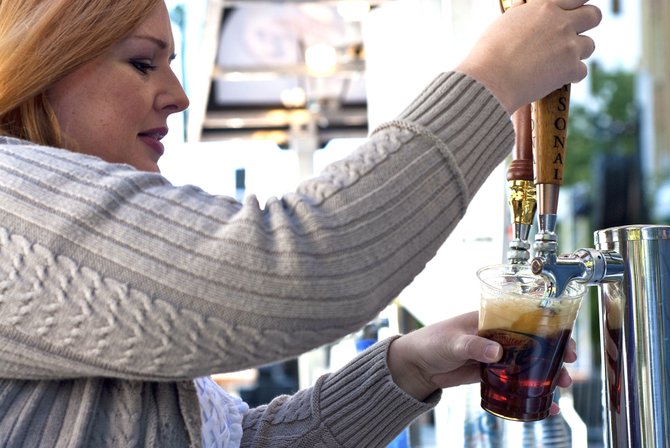 Bands. Brats. Beer. No, this isn't exactly a word-association game. This is the mantra of Jackson's answer to Oktoberfest: Jacktoberfest, and it was a bar bet that almost went nowhere.
Seven years ago, at a bar during happy hour, someone asked, "Why doesn't Jackson celebrate Oktoberfest?" A group of locals who shared an interest in beer decided they would throw something together.
It's been an annual event ever since, always on the third Friday of October. The festival skipped one year back in 2009 because most members were burnt out, but when the coordinators realized the impact it had on in the city, they brought it back in full force.
JFP co-founder Stephen Barnette has been co-coordinator since the beginning, and remembers the first year fondly.
"It started very organic, as a group of friends. It was also bitterly cold from what I remember, the attendance was really light, and we had a few hundred people. It was a haphazard 'Hey, let's do this' kind of thing," he says.
Without the help of Todd and Katie Parkman, who would eventually be instrumental in the founding of Raise Your Pints, the festival may have not even happened. As luck would have it, the couple overheard the group of friends talking at the bar, and approached the guys, telling them they couldn't have an Oktoberfest without German beer.
"I think the hot button was Todd and Katie Parkman saying, 'We'll buy the keg for it.' It was the first step in making it happen. Todd and Katie bought a keg of German beer, and it was kind of a domino effect," Barnette says.
The fest is Friday, Oct. 19, on Congress Street between Amite and Capitol streets, It is free and open to all ages. In fact, bringing the whole family is encouraged. Jacktoberfest kicks off early at 11 a.m. and goes on until 11 p.m. Live music will be playing throughout the day with bands like Rosco Bandana from Gulfport, Sister Sparrow and the Dirty Birds, and more.
It wouldn't be much of an Oktoberfest without bratwurst, and there will be plenty of the German sausage and sauerkraut to wash down the beer. But make no mistake, it's the beer that is the kaizer of this festival. This year Jacktoberfest will have 12 taps, but that won't necessarily limit it to 12 beers, Barnette says. Raise Your Pints will have volunteers pouring the drinks, and while it may not cost anything to get in the festival, they will be working for tips.
Craig Hendry, president of Raise Your Pints, has attended Jacktoberfest for the past couple years and looks forward to seeing it grow.
"I would love to see it get bigger, so that people from way outside of Jackson will get a hotel room, go have beers around town afterwards or the next day and eat at some restaurants," he says.
The big draw that will bring in people from out of town? That would be the 2012 Craft Brew Competition. In only its second year, the participation has more than doubled, Barnette says.
"Last year, we had a dozen brewers and about 25 to 30 beers entered in the competition. Now we have 35 brewers and 65 to 70 beers entered in the competition," he says.
There are five categories in this year's competition, with medals awarded to the winners. Two additional medals will be awarded Best Overall Beer and The People's Choice. Participation is limited only to amateur brewers, no commercial brewers allowed.
Accompanying the craft-brew competition will be a craft-beer garden, where anyone over 21 years old who pays the $15 admission fee will be able to try the beer entered in the competition and talk with the brewers themselves. Once in the garden, participants will receive a souvenir pint glass and a sampling glass to taste beer entries and a ballot to vote for the People's Choice winner.
Barnette says the craft-beer garden has become an integral part of the festival atmosphere. This year, the competition will achieve a level of legitimacy it didn't necessarily have last year. Several judges are certified and will judge in accordance to the Beer Judge Certification Program, the national standard for craft-brew competitions.
The festival is a hyper-local event, Barnette says. The ownership falls on all who help out and contribute to making the festival happen every year. The food? All thanks to McDade's. Power? That's Entergy.
For Jacktoberfest, It's all about local businesses working together.
"We are doing everything locally, like the beer is distributed locally. The food comes locally, not like going to Sam's Club, this national chain. It's this idea that we are all in this together," Barnette says. "All of it is in-kind."
Jacktoberfest is from 11 a.m. to 11 p.m. Oct. 19 downtown. Admission is free, but prices on food and beer vary. Cash only. The craft beer garden costs $15 to enter and runs from 5-7 p.m. Visit jacktoberfest.com for more information.
More like this story
More stories by this author