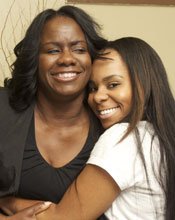 It's not particularly common for people to do what they love and be successful at it, but that's just what mother and daughter Neesee Ray-Scott and Amanda Purvis do. Both are hairstylists at Upscale Images Salon (5472 Watkins Drive, 601-813-7097). The salon has been in the family for about 17 years.
Neither of the two initially wanted to be a hairstylist. Ray-Scott, who graduated from Jim Hill High School, attended Hinds Community College in hopes of becoming a nurse and started doing hair on the side to bring in extra money. After some time, she dropped out of Hinds and enrolled at the Jackson Academy on Terry Road, which is now the Academy of Hair Design.
"All I thought about was how many heads I had to do that night," Ray-Scott says. "Hair was calling me. I also wanted to be with (my daughters) when they got out of school. Working in a salon, they're right there." Ray-Scott has three children: Angel, 30; Amanda, 26; and Arliss, 21.
Purvis, who grew up in the salon, didn't immediately entertain the idea of being a hairstylist. After graduating from Callaway High School in 2004, she attended Jackson State University with elementary education as her major. However, she left the program, realizing that hair was her passion.
"I thought I wanted to do something else, when all along I wanted to do hair," she says. "Hair has been running through my veins. It came natural to me."
She graduated from Magnolia School of Cosmetology in 2010. On her 23rd birthday, her mother, after owning Upscale Images for five years, signed over the salon to her. Now, Purvis aims to diversify her clientele. "I want Upscale to be the salon everyone comes to," she says.
As a mother of an 8-year-old son, Ayden, the flexibility of being a salon owner and hairstylist is also a perk to Purvis. "I don't let my job interfere with his school work," Purvis says. Ayden attends Boyd Elementary School, where he recently won second place in the district for his entry in the 2012 Jackson Public Schools Martin Luther King Jr. art contest.
Although Ray-Scott suffered a stroke in 2008, she still works at the salon. The mother and daughter team both enjoy working with women and making them feel beautiful. Ray-Scott says the highlight of her job is seeing the look on customers' faces when they see their hair and truly like it. "It's a labor of love," she says.
The salon specializes in hair extensions but also offers services for natural hair, relaxed hair and extension lashes. Upscale Images Salon takes walk-in appointments throughout the week.
More like this story
More stories by this author