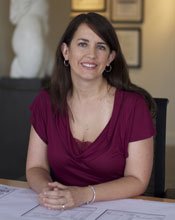 Melissa Edwards grew up surrounded by the influence of architecture through her two uncles who work in design. She did not know of any female architects who could serve as role models, however, but that didn't stop her from entering the field.
Edwards, 36, is a project architect at JBHM Architects in Jackson. In her role, she works on every aspect of clients' projects from the planning stages to when the building is actually completed.
"I get so involved with my projects. I go to see the project to see if its done the way the client wants," she says. "It takes a lot of time ... but it's so worth it."
The Hazlehurst native attended Copiah Academy. During her freshman year at the University of Southern Mississippi, she decided to become an architect. She didn't really consider the field until a family member pointed out how her talents, particularly her drawing ability, related to architecture. She then decided to look into it.
"I took a few courses, and I loved it," Edwards says. "I love the way architecture combines science and art. That appealed to me." She graduated with her bachelor's degree in architectural engineering technology in 1998.
In Jackson, Edwards worked on the Jackson Country Club design in 2009 through 2010 and the Gladys Noel Bates Elementary and Thomas Cardozo Middle School in 2010.
"(The country club) occurred in phases. It was a very exciting project," she says. The company first re-did the golf pro shop to open up more space. Next, they renovated the downstairs area and the kitchen and then worked on the workout facility.
The newly built school, located on the McDowell Road extension, is one large building dedicated to elementary and middle school students.
"This was a fun project. The feedback from the children, hearing how much they enjoyed it--that was great," Edwards says.
Architecture is not about constructing just any kind of building. Edwards takes care to keep the client in mind as well as the environment. "(Design) has a psychological impact on people in the buildings," Edwards says.
"Good design makes you excited to be there On the other hand, I'm sure you've seen some design that wasn't that great, and you didn't want to go back. It plays a tremendous part in people's experience in buildings."
Edwards is a member of the American Institute of Architects, which offers ongoing education for architects. She also is a LEED (Leadership in Energy and Environmental Design) accredited professional with the United States Green Building Council.
Edwards lives in Jackson with her husband, Trent, and son, Corvin, who will be in the 6th grade in the fall.
She has lived in Jackson for almost 14 years and doesn't plan on going anywhere. "New architecture and renovations show how a city is growing," Edwards says. "It excites people and (gets them to ask) 'What else can we do?'"
More like this story
More stories by this author