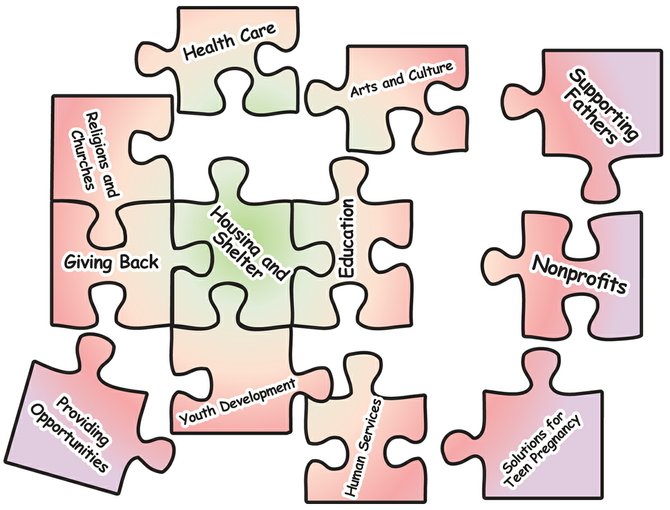 Approaching solutions to poverty may seem like a daunting task. With so much to overcome, some folks are paralyzed into doing nothing at all. But making a difference doesn't have to be overwhelming.
Here are some tips:
• Remember that you don't have to do everything, and you don't have to do anything alone. Just like every drop of water adds to what's in the bucket, small contributions of talent, time or money always add to the whole.
• Get better informed about the issue. Question commonly held perceptions about who is poor and why. Learn about the history and roots of poverty in America. Try not to generalize; the reasons for poverty are complex, as are the solutions.
• Don't ignore it. Be willing to talk about poverty, challenging yourself and others to break out of stereotypes and clichés.
• Volunteering doesn't have to consume a lot of time or resources. Find an area you're interested in (or, better yet, passionate about) and seek out volunteer opportunities that fit your abilities and schedule. Are you an artistic type? Check into local arts organizations and museums. Do you have a teachable skill? Look into after-school programs or youth development organizations. Can you wield a hammer or a paintbrush? Join neighborhood organizations or programs building or fixing low-income housing.
• Are you on the other side of poverty? Your story can influence and change lives. Volunteer to speak to groups at your place of worship, at schools and with organizations that work with the poor. Contact local papers to pitch your story.
• Write to your legislators about your concerns; write letters to the editor.
• Shop ethically. Know where your food, goods and services come from, and avoid companies and products that exploit people or resources. Buy fair-trade products whenever possible.
• Money is always welcome, and even small amounts can go a long way. Loan money with micro loans or donate to organizations working to eradicate poverty.
Source: International Baccalaureate (ibo.org)
More like this story
More stories by this author