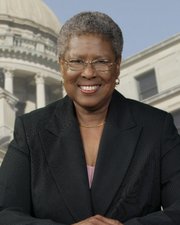 As the minority party in the Mississippi Senate, the conventional wisdom would suggest that Democrats don't tally many legislative victories.
Sen. Alice Harden was an exception to the rule. Brenda Scott, president of the Mississippi Alliance of State Employees/Communications Workers of America, said Harden's ideas on improving conditions for state workers and immigrants made sense and the way she presented her argument in ways that made sense to both Democrats and Republicans.
"She won respect that way," Scott told the Jackson Free Press this morning.
News of Harden's death this morning sent shockwaves through Mississippi's political and advocacy communities.
Scott believes that few state workers and teachers realize how hard Harden, a state senator since 1988, fought to improve their working conditions. A Pike County native and Jackson State University graduate, Harden was a teacher and president of the Mississippi Association of Educators.
Lt. Gov. Tate Reeves, who presides over the Senate, said in a statement today that Harden "brought her passion for improving Mississippi's schools and universities to the State Senate. She fought diligently for all Mississippi children to have an opportunity to receive a good education."
Harden's death follows that of Democratic Sen. Bennie Turner of West Point in late November.
Bill Chandler, executive director of the Jackson-based Mississippi Immigrant Rights Alliance, called the losses of Turner and Harden devastating blows for working people of Mississippi.
Chandler described Harden as a principled legislator who helped secure pay increases for state employees and became a strong advocate for immigrants as their numbers grew in the state.
He also cited Harden's authorship and subsequent funding fight for a bill requiring the state to place certified translators in Mississippi's courts. Previously, judges sometimes relied on other immigrants detained in county jails to act as translators, he said.
Of Harden, Chandler said: "She really was a giant for human rights, for workers rights and for immigrant rights."
More like this story
More stories by this author