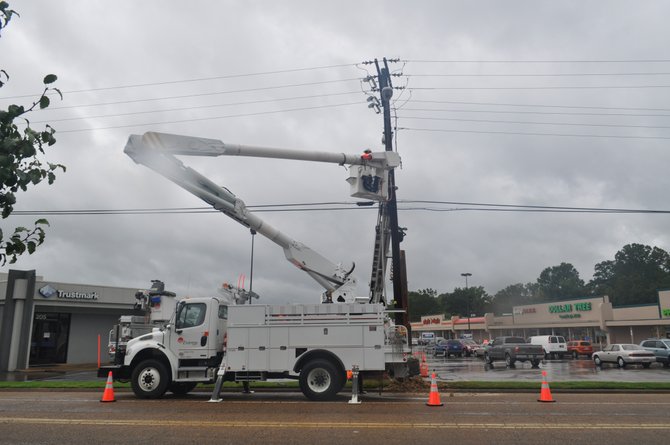 JACKSON — As steady rains continue to fall, Hurricane Isaac ambled through central Mississippi, where city of Jackson and utility crews are busy cleaning up after the storm.
In a briefing sent out this morning, City Hall alerted citizens that trash hauler Waste Management won't be picking up garbage today. The company will resume Friday where it left off as well as with its normally scheduled pickup.
The city is also urging capital city drivers to drive carefully to prevent hydroplaning and to report failed traffic lights, flooding, downed trees and other non-emergencies by calling the city's 311 phone system.
Mayoral spokesman Chris Mims said the city would prefer that people stayed indoors if possible and not go sightseeing. He said the city work crews have been busy clearing downed trees, 20 or 30 so far, that if the winds pick up again conditions would be too hazardous for workers in bucket trucks.
As of 8 a.m., Entergy, the electric utility that serves Jackson and the metro area, reported 6,700 customers without power in the city.
Statewide, utility companies reported that more that 150,000 customers in south and central Mississippi don't have power. Nearly half of Louisiana is without power as Tropical Storm Isaac continues to move inland.
As of last night, Entergy officials said that because of Isaac's slow-moving nature, restoration wouldn't start until today. The company said approximately 63,000 of its Mississippi customers lacked power as of 8:30 a.m. One of Entergy's high-voltage transmission lines in Mississippi went down; 42 such lines were damaged in Entergy's Louisiana service areas. Entergy has a workforce of 10,000 and its crews are working 16 hours per day to restore power to all its customers.
The state's other major electricity supplier, Southern Co.-owned Mississippi Power, has about 15,000 customers without power, and brought in 1,600 line crew members and tree trimmers from Georgia Power--which is also owned by Atlanta-based Southern Co.--to help restore service. The company expects to get the power back on for 90 percent of customers by midnight tonight.
The city of Jackson listed the following streets as blocked off due to flooding at 10 a.m.
U.S. Highway 80 West at Lynch Street
McDowell Road at McFadden
Woodside at Smallwood
Meadowbrook at Kings Highway
Abraham Lincoln at Lyndon B. Johnson
Fortification at President
President at Barksdale
Additionally, the following traffic signals were out or flashing at 10 a.m.
State Street at Presto Lane
Duling Avenue at State Street
Prentiss at Robinson
Meadowbrook at Ridgewood Road
Ellis at Raymond Road
University at Railroad
McDowell at Woody
Old Canton at Fondren Place
Old Canton at Lakeland Drive